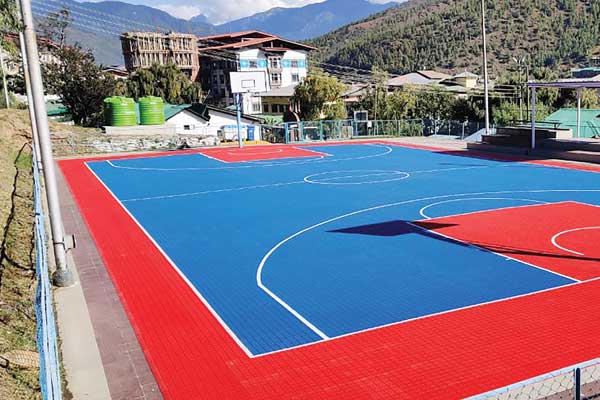 In this exclusive interview, Nasir Ali, Founder & Director, Gallant Sports & Infra Pvt Ltd. talks about sports infrastructure scenario in India and how they have successfully established themselves in this bullish market. Gallant Sports over the years has been pinnacle in delivering customer-satisfaction and has been a helping hand for their clients completing massive projects under strict deadline and robust situations. From their successful journey, Sportz Business brings up the excerpts below.
Q. When was Gallant Sports established and since then, how has been the journey of Gallant Sports?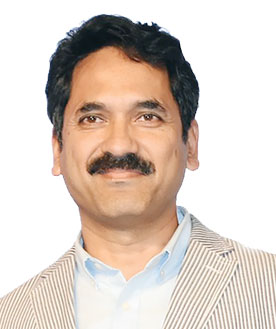 Established in the year of 2015, Gallant Sports & Infra Private Limited is the leading Wholesaler, Trader and Importer of PU Sports Surfaces, Artificial Playing Grass and much more. Over the years, our sporting infrastructure systems and services have been used by a large number of universities, communities and amateur clubs, for maximizing function and minimizing costs and we were really happy to be able to provided them with what they were actually looking for.
Q. Your successful projects accomplished, challenges faced and way through?
We would like to believe that all the projects undertaken by us have been really successful in terms of the results and the client satisfaction. One such was a project done for BGS School Dwarka.
The requirement was to build multiple grounds, including a football field, basketball field, skating rink and more. This was a wholesome yet challenging project but the team of Gallant Sports fulfilled the target smoothly in a time span of 2 months. After a lot of hard work and determination put together by our wonderful operations team, the ground comprising of, football field, basketball court, tennis court, skating rink, cricket nets & tennis court were successfully made. The project covered an area of 75000 square ft. providing enough space and ease for the students to enjoy various sports.
The base work for the football ground was created with a dynamic base made up with subsoil and the remaining grounds and fields were made using a concrete base. It was a time consuming and tedious procedure but with great efforts, it was all done in the given time without hurdles.
Q. How do you reach your potential customers and your expertise to cater them a complete service and solution?
Our exclusivity agreements with world-class international brands that span the whole gamut of sporting activities from Football, Cricket Wickets, Multi Sports, Tennis, Badminton, Squash, Basketball, Table Tennis, Paddle Tennis, Wrestling, Handball, Netball, Gymnastics, help us reach our potential customers. Apart from this we also take part in various exhibitions to promote our brand. Our social media content also help us stay active in the market and hence be visible to the ones in requirement of our services. Once we get in touch with a potential customer, Gallant ensures full compliance from the germination of an idea to its final execution and completion, which helps us cater to their needs and fulfil the customers requirements.
Q. Your opinions on the growing sports infrastructure demand in the country?
We believe that infrastructure is the backbone of sports. India has witnessed a spurt of growth in sports infrastructure development in recent years, which will have a strong impact on the state of sports in the long run. Challenges such as availability of land bank and ineffective utilisation of existing infrastructure pose a hindrance to this growth. Sports infrastructure should be treated as an integral part of urban planning that will help make champions by providing the right playing surfaces and equipment at the right age for the kid to blossom into a world-class champion.
Q. What is your key business model in India?
We are a one-stop shop for all your sporting infrastructure needs. We aim to design and maintain international standard sporting infrastructure – that ranges from indoor to outdoor playing fields. We ensure full compliance from the germination of an idea to its final execution and completion.
Q. What is the role of private sector in the sports infrastructure business?
We believe that the private sector is a key stakeholder in the Indian sporting ecosystem. In particular, for sports infrastructure development, private entities contribute towards areas such as development and maintenance of sports facilities and talent development.
Q. How important is Private Public partnership in this sector?
PPP model is extremely important since private sector is an important stakeholder in the Indian sports ecosystem. In particular, for sports infrastructure development, private entities contribute towards areas such as development and maintenance of sports facilities and talent development. This model also enable adequate risk sharing amongst the involved stakeholders and ensure mitigation by parties who have expertise in it.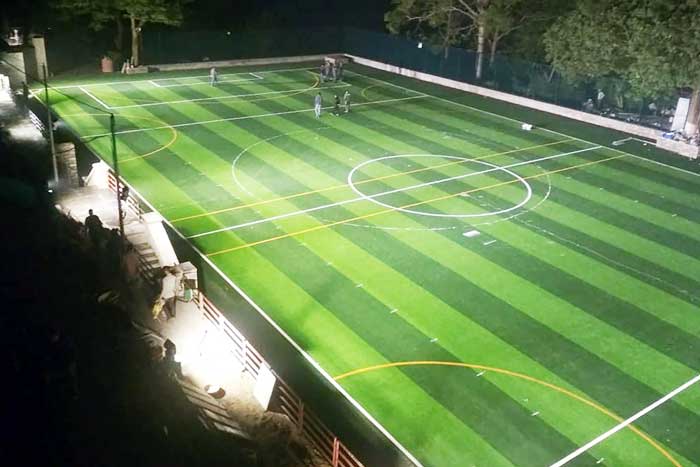 Q. There are other players in this domain, what has kept Gallant Sports ahead of their competitors?
We have exclusivity agreements with the best of the next generation innovators and manufacturers of sporting infrastructure solution providers for best sporting surfaces and equipment as well as construction, to always ensure world class quality. Gallant just does not believe in providing the Infrastructure but it would also love to maintain the playing arenas for increasing life of the products used to 15 years plus. Most of our products have a warranty of 7 to 25 years but actual life is much more, if it is maintained well.
Q. Lastly your comments on the future of sports infrastructure business?
India has the potential to transform itself into a global sporting powerhouse with far-reaching impact on health, education and tourism. Sports form an important thread in the fabric of the Indian community. As a country known for its love of cricket and other sports, Indians are clearly invested in sports. In a symbiotic relationship, communities feed the spirit of sports, while sports build a stronger sense of community. Improving or building on the current sports infrastructure contributes to this relationship both directly and indirectly.
Better investment in sports infrastructure leads to increased employment in the locality, as more workers are hired to improve or build stadiums, local residences, changing rooms, and other auxiliary structures for hosting a sporting event. This improvement in the locality might in turn benefit local stores and businesses on game days as sports fans flock to the area.
It also provides better access to community members and facilitates interest in participating in competitive sports, serving as a valuable means to shape future talent in the country. While the focus on sports infrastructure is largely concentrated on large-scale stadiums, it is also worthwhile to consider the utilisation and community impact of smaller, mobile facilities. With the development and improvement of stadiums and other sports facilities in an area, it significantly benefits from a boost to tourism and consideration as a venue for mega sporting events, besides encourages a participation in physical activities and sports.
Q. You're the key enablers inking the future Sports scene in India, in your opinion what are your takes in improvising new capabilities and improvements to create World-Class facilities for sports?
There are exciting opportunities for sports infrastructure to be uniquely developed and supported in India. Some of these opportunities can be realised through the introduction of special sports zones (SSZs), optimal utilisation of existing sporting facilities at educational institutions, and supporting the use of emerging technology.
Avenues to increase the usage of sports infrastructure in educational institutions must be explored. Larger communities should be encouraged to use these facilities during nonworking hours of the institutes. Integration of these facilities with the community sports infrastructure within cities and towns will be of benefit and will also help in tackling the issue of underutilisation.
Disclaimer:
The information contained in this article is for educational and informational purposes only and is not intended as a health advice. We would ask you to consult a qualified professional or medical expert to gain additional knowledge before you choose to consume any product or perform any exercise.