Pharmaceutical major Sun Pharma Consumer healthcare has signed Indian cricket national team captain Virat Kohli as the New brand ambassador of its chief pain killer brand Volini Maxx.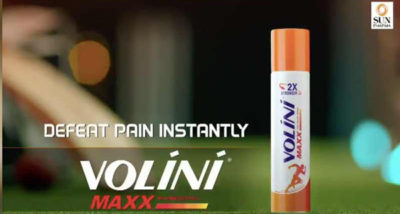 Recently, the sun pharma has relaunched Volini in its new avatar as in Volini maxx as the India's Strongest pain relief spray.
Volini Maxx is a new variant of the sun pharma's preexisting brand, Volini-the leading pain relief sprays in India. The product is targets to ease several muscles, joint and back ache providing a comprehensive cure to the body.
"I'm happy to partner with Volini and announce the launch of Volini Maxx – India's strongest pain relief spray," said Virat Kohli. "Athletes are required to push through pain on a regular basis, and Volini has been my trusted pain relief partner for decades. With its instant pain relief formulation, I am able to focus on my game and not the pain."
Kal Sundaram, CEO – India, Emerging Markets & Consumer Healthcare, Sun Pharma, said, "Volini has been a trusted pain relief partner for over two decades. We are happy to introduce Volini Maxx spray which is stronger than any other topical pain relief spray available in India. It will provide effective relief to people suffering from back and joint pain & also in sports injuries."
"Known for pushing the limits of physical endurance, Virat echoes the brand vision of constantly improving performance and not letting pain come in the way of going that extra mile," he added.
Madhu Noorani, President, Lowe Lintas, said, "Virat Kohli headlines more than every cricket match he plays. He is celebrated for his consistent performance and unmatched levels of fitness. Unstoppable, he is always seen firing on all cylinders on the field. However, this does not come easy in today's demanding competitive cricket world."
"A sportspersons life, more than anyone else's, is liberally sprinkled with injuries and when you are knocked down, what matters most is how quickly you can come back to the game. In the Advert, Virat Kohli is seen pushing himself to the max. And while doing so he comes to a grinding halt because of pain. That's when Volini Maxx steps in to put him back on his feet. This is the central theme of the campaign…don't let pain stop you as you push your limits."