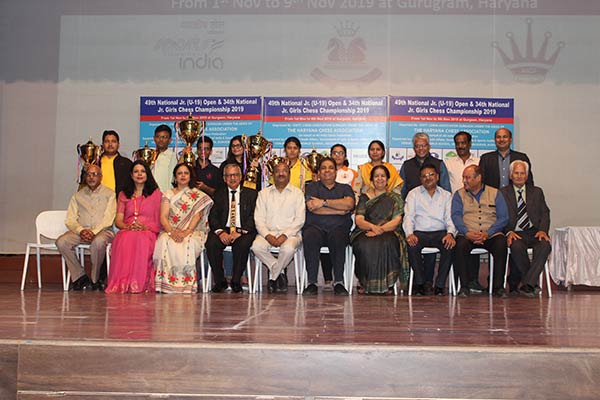 Srishti Pandey of Maharashtra reigned supreme in 34th National Jr. (U-19) Girls Chess Championship 2019, Aradhya Garg of Delhi reigned supreme in 49th National Jr. (U-19) Open Chess Championship 2019
At this year's National Junior Chess tournament, out of 300 talented chess players, Srishti Pandey of Maharashtra and Aradhya Garg of Delhi won to represent India in the World Junior Chess Championship 2020 to be held in India. 
The 9-day National Junior Chess Championship 2019 at Suncity School Gurugram, organised by District Chess Association under the aegis of The Haryana Chess Association and All India Chess Federation concluded today.
The Chief Guest on the occasion were Shri Sudhir Singla, MLA, Gurgaon. Mr. Bharat Singh Chauhan, Secretary General, All India Chess Federation, Mr. Ajit Verma, Secretary, Delhi Chess Association, Mrs. Rupa Chakravarty, Director, Suncity School, were also present on the occasion.
Mrs. Rupa Chakravarty, Director, Suncity School congratulated the players for their brilliant performance, she said, "This was a great platform for players from across the country to showcase their talents. These kinds of tournaments provide them with an opportunity to take their game to another level."
She also suggested that private schools should adopt government schools and their players can teach players from government schools.
The 49th Junior (U-19) Open & 34th Junior (U-19) Girls Chess Championship witnessed a tough competition and all the players put up an excellent competition. Shri Sudhir Singla felicitated the winners and congratulated them on their achievement.
An elated Srishti Pandey, shared her experience and said, "This has been one of the best tournaments for me and was a great learning experience. I have a long way to go and I hope to continue this performance. I would like to suggest other players to stay focus and not to lose interest in chess."
After the National Junior Chess Tournament, the ranking status of the Top 10 (U-19) players is as follows:
49th National Jr. Open Chess Championship 2019
| | | | | |
| --- | --- | --- | --- | --- |
| Rank | Title | Name | Rating | Club |
| 1 | | Aradhya Garg | 2165 | Delhi |
| 2 | IM | Mitrabha Guha | 2443 | West Bengal |
| 3 | IM | Koustav Chaterjee | 2449 | West Bengal |
| 4 | FM | Aaryan Varshney | 2236 | Delhi |
| 5 | IM | Srijit Paul | 2317 | West Bengal |
| 6 | FM | Jeet Jain | 2264 | Gujarat |
| 7 | | Saurabh Anand | 2278 | Bihar |
| 8 | | Soham Kamotra | 2189 | Jammu & Kashmir |
| 9 | FM | Anuj Shrivatri | 2376 | Madhya Pradesh |
| 10 | | Harshvardhan G B | 2360 | Telangana |
34th National Jr. Girls Chess Championship 2019
| | | | | |
| --- | --- | --- | --- | --- |
| Rank | Title | Name | Rating | Club |
| 1 | WFM | Pandey Srishti | 2140 | Maharashtra |
| 2 | WIM | Arpita Mukherjee | 2234 | West Bengal |
| 3 | WIM | Aakanksha Hagawane | 2227 | Maharashtra |
| 4 | WFM | Bommini Mounika Akshaya | 2087 | Andhra Pradesh |
| 5 | WIM | Chitlange Sakshi | 2185 | Maharashtra |
| 6 | WFM | Salonika Saina | 2100 | Odisha |
| 7 | WFM | Jain Nityata | 1927 | Madhya Pradesh |
| 8 | | Bhagyashree Patil | 1970 | Maharashtra |
| 9 | | Priyanka K | 2067 | Telangana |
| 10 | WFM | Potluri Supreetha | 1968 | Andhra Pradesh |