With the changing mode of fitness coaching i.e., Online Fitness Coaching, there come new sets of limitations and challenges to overcome with. At a time, when online fitness coaching is on the rise in contrast to the excessive reluctance of general people to hit the gym again amid the COVID-19 virus, it has highlighted the sheer need for a competent, knowledgeable, and experienced coach on board. Coaches who have immense knowledge of human anatomy and understand the different facets required to bring a spectacular transformation in their client's body.
Featuring one of such transformation coaches, who believes Indian Clients don't know how to filter an apt fitness trainer for them as they don't do their homework beforehand, we have Transformation Coach, Tejaswini Pandit. An IFBB Pro Figure Athlete, Powerlifter, and a transformational coach, Tejaswini Pandit embarked her fitness career way before when we used to play after-school games, at an early age of 13. Started fitness just to shed some weight, now Tejaswini has been lifting so much weight that normal people find it hard to lift without any preparation.
In an effort to know more about this amazing Coach and Athlete, Abhinav from Sportz Business Fitness Magazine talked to Tejaswini Pandit, IFBB Pro Figure Athlete, Powerlifter where she shared her insights over different contemporary topics. Let's read her insightful talk.
Q.What made you venture into a male-dominated field of Bodybuilding and how supportive your parents were when you expressed your feeling to get into the bikini athlete championship?
I started working out at the age of 13 just because I wanted to lose weight. My mother inspired me to join the gym when she lost her post-pregnancy weight while I was still in school. She inspired me to study training and said that I could take it up in future if I wanted to. My mother being a cardiologist always encouraged me to be fit and active. As the years went by I got into powerlifting and then bodybuilding thereafter all with her support.
Q.You are a pro-card holder so when can we expect seeing you flexing your muscles on the international bodybuilding Championships like Arnold Classic and Olympia?
Bodybuilding is an expensive sport making it to that level requires one to compete multiple time a year traveling back and forth to the United States. I work, save money and then decide to go for a competition. Finding a sponsor isn't as simple as it seems. Therefore, the road is incredibly hard for those who don't have the necessary financial support. I myself am in the process of overcoming these challenges in my life.
Q.There has been an exponential growth of Online Fitness coaching during the COVID-19 pandemic, how do you see the new paradigm shift of fitness coaching?
Online fitness coaching is quite common in bodybuilding and powerlifting where one needs the best coaches to back them. These excellent coaches don't probably stay in our locality and if one is looking to work with the best and are motivated, one needs to look outside!
For people with online coaching businesses, it is incredibly rewarding. People have adapted their ways. Coaching a client without having to touch them to point out their mistake is something every coach needs to learn. It requires the highest form of communication in order to put you point across
Q.An influx of Online fitness coaching has created too much clutter on the internet resulting in people getting confused about which program will work for them and which won't, what is your suggestion to them?
In India, interviewing coaches isn't as common as it is in the west. A client needs to interview a potential coach, ask the right question and ensure that they are both on the same page when it comes to how they will go about achieving their goals. Each coach has a different approach. If you're confused, ASK. If you follow any structured plan, it will most likely deliver a decent result. You need to find someone you can work with in the long term, so they get enough opportunity to understand your body and thereafter work their magic using a sustainable, heathy approach. DO your homework! Constant communication is the key. Just leaving you with a plan isn't going to help.
Q.How good is the online or offline fitness coaching profession is? How do you see its future in a country like India?
This really depends on a coach's experience, knowledge and skills. It can be very very useful as quality coaching isn't as easily available to everyone in a country like ours. This can really improve in the quality of training and make coaching affordable to people.
Q.There has been a lot of fuss around supplementation, what is your take over this when one should take a supplement to meet their fitness goals?
A supplement does precisely what it says it does. It supplements!
It isn't a replacement for a well-structured eating, training and recovery plan. If certain nutrients are not available to an individual due to lifestyle or certain dietary restrictions, supplements definitely have their place. Supplements also help make diet plans more effective, improve performance and help replenish the body depending on what they are being used for.
Q.You always come up with informative social media posts, can you highlight how much education is important for bodybuilding besides lifting heavy?
Education is extremely important. I cannot stress on this enough. People follow coaches and youtube channels blindly without questioning or reasoning. Each individual is different and learning your own body is a huge challenge in itself. Without educating oneself, this whole process is extremely lengthy and unsafe. Athletes often attempt to do too much too soon. This leads to injury. Education is important to ensure that they play the sport in a sustainable manner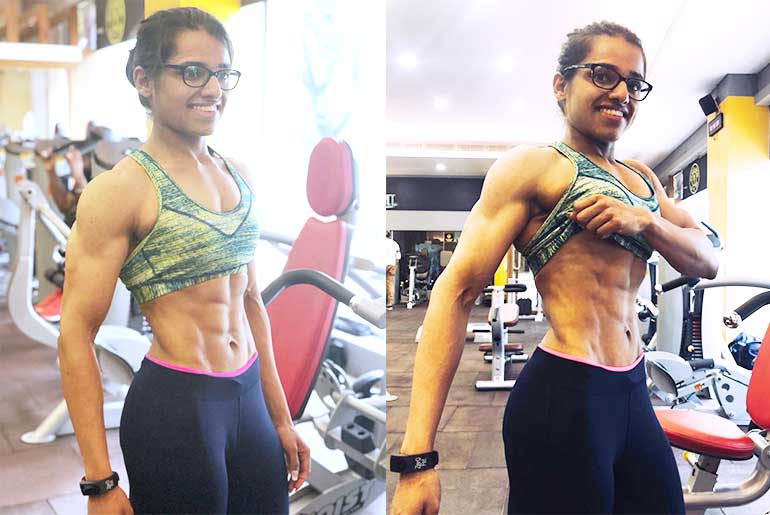 Q.How do you see Indian Bodybuilding Industry? Any suggestion for the government, you want to give to promote it in India.
Bodybuilding in its current form cannot be pursued as a profession especially if you are not a professional coach. In order for it to become more mainstream, it needs to attract a wider audience to start with. The fans make the sport automatically grow. People don't know what a bodybuilding show looks like. These things are not unfortunately covered in mainstream media. Growing the fanbase is the biggest and the most important thing. That will only happen with increased awareness.
Q.And the last what's in your pipeline to hit in 2021?
Mainly my pro debut in the IFBB in the Women's figure category!!
And of course, working with my clients and working on my online coaching business and reaching more and more people and transforming them!
Disclaimer:
The information contained in this article is for educational and informational purposes only and is not intended as a health advice. We would ask you to consult a qualified professional or medical expert to gain additional knowledge before you choose to consume any product or perform any exercise.