Mumbai to travel to Brazil to compete in the World final, and have a chance to meet Neymar Jr
India, 10th July 2019: All roads lead to Brazil as national qualifiers go in search of glory in Praia Grande following months of intense qualifying action around the globe, the best five-a-side teams in the world are on their way to Brazil to battle for glory at the Red Bull Neymar Jr's Five World Final 2019 on 12-13 July.
Now in its 4th Edition, over 100,000 players aged 16 to 25 from more than 40 countries across six continents embarked on the journey to outplay them all, and the cream of the crop will now get to live their dream at the Instituto Projeto Neymar Jr in Praia Grande. One mixed team and one women's team will be crowned World Champions in the world's biggest and most exciting five-a-side tournament format – 10 minutes of intense action, no goalkeepers and teams losing a player every time the opposition scores.
At the heart of the Red Bull Neymar Jr's Five ethos is the global and uniting spirit that proves anything is possible, and over the past few months the global qualifiers have echoed this message with plenty of drama and exciting battles.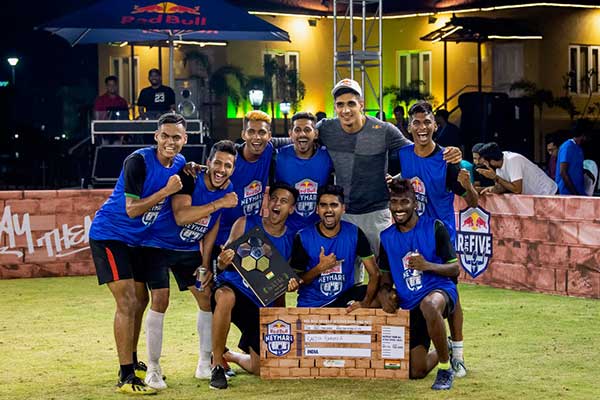 With 3216 teams, bringing their best to the field, Kalina Rangers Mumbai emerged victorious and became the National Champions of Neymar Jr's Five 2019. Anthony Machado, Tyson Periera, Henderson Dias, Rayyan Shaikh, Craig D'Souza, Melvin Barboza and Charnel D'Almeida will now represent India in the World Finals 2019 at Instituto Projeto Neymar, Brazil, between 12-13 July 2019 and meet the Paris Saint Germain superstar in his own backyard.
Anthony Machado from Kalina Rangers, winning team member, said, "We are delighted to win the Red Bull Neymar Jr's Five 2019 National Finals. We have been practicing a lot before this tournament started as we know we have to play against some of the best 5-a-side teams in the finals. We would like to thank energy drink giants Red Bull for tournaments like these that give wings to young and upcoming footballers in India. We are proud to represent India at the World Finals in Brazil and we hope to make our nation proud. Would love to meet the Paris Saint Germain superstar in his own backyard. I personally have been playing Futsal for the past 7-8 years. It is a format that really excites me because of its fast pace nature and one must be focused the entire game as one lapse in concentration can lead to goals. Futsal enables us to show off our skills and flair on the field which may not be the case in field football; this is the part that inspires me a lot."
Neymar Jr's Five 2018 National Champions, Joga Bonito Mumbai represented India in Brazil in the World finals last year and gained valuable experience with historic wins against Chile & Luxembourge to qualify for the knock out rounds. Not only India won a match at Neymar Jr's Five World finals for the first time but also qualified for the round of 32 (knock out rounds).
Other standout stories from the qualifiers include the USA female team, Dallas FC, who drove through the night from Texas before the last chance qualifying stage in Florida, and Namibia's Mercury City, who had only played together for one month before earning a wildcard spot and winning an incredible final. Spanish team Jaritoti have also travelled a very special road, having formed years ago at a football school for children at risk of social exclusion.
Along with the best teams from each country, for the first time one international team will also compete for the title. This team is formed by the winners of the Jr´s Global Five competition, where players from all over the world participated by posting videos of their #outplaythemall skills on their Instagram channels. These individual players have the unique chance to create one international team – Jr's Global Five – and train together in Brazil for two days, before joining the World Final along with the 42 National Champions in the mixed competition representing their home country.
The World Final kicks off on Friday, July 12, with the group stage. The best teams will advance to Saturday's knock-out format before the top two women's and mixed teams face each other in the final of each division. Besides the trophy and champion status, their prize will be a once in a lifetime opportunity to play a game against a team formed by Neymar Jr. The mixed team has not been announced yet, but the women's champions will line up against a star-studded team including six players from the Brazilian National Team, Andressa Alves (FC Barcelona), Cristiane (São Paulo FC), Calan (former Santos), Ludimilla (Atletico de Madrid), Erika, Tamires (both Corinthians FC) completed by Amandinha (futsal) and Nathalia Guitler (footvolley).
After a long qualifying journey, the stage is now set for what should be a thrilling two days of football, and the teams are making their final preparations as they attempt to outplay them all.
Live on Red Bull TV
The Group Phase will be live from all pitches on Friday, July 12 at 3:00pm CEST (6.30pm IST) on Red Bull TV (pitches can be selected). The Finals start on Saturday, July 13 at 3:50pm CEST (7.20pm IST) on Red Bull TV.
https://www.redbull.com/int-en/events/AP-1ZE9AJ4K11W11
Disclaimer:
The information contained in this article is for educational and informational purposes only and is not intended as a health advice. We would ask you to consult a qualified professional or medical expert to gain additional knowledge before you choose to consume any product or perform any exercise.