We all have been hearing for quite some time about how important it is to follow a lifestyle that is rich and healthy, which not only generates positivity within us, but also encourages others to adopt such lifestyle. The thing that people get to say to you after meeting you would normally start with a "Hello" or "Hi" followed by an enquiry as to "How are you doing?" They may even enquire about your health if they know you well enough. In most of the cases, pat may come the reply that states "Yes I am doing good or fine." We may even be leading an unhealthy lifestyle and be affected by many health related complications both physically and mentally. However, we may not want people to know that for sure. Further, most of us can call ourselves a victim of sedentary lifestyle that has been forced upon us, although we may want to get up and start moving about doing many things.
Many of us may have heard of the words "Balanced Diet", although it could be tough for you to put them into practice immediately or in the short run. But, it also becomes all the more important for you to take note of this important aspect for improving your health as a whole in the long run. Your diet must consist of enough servings of fruits and vegetables, especially vegetables of several colours such as green vegetables, red and purple beetroots, green peas, etc. You must also have a diet that has an appropriate mix of both dairy and non-dairy, including meat products that can be consumed in adequate amounts to meet the requirements of your body. Our body needs an optimum intake of all the essential nutrients. We need to be able to consume these nutrients, be it water, carbohydrates, protein, vitamins and minerals, each of them in appropriate level or quantity in order to protect us from being affected by ill health.
When you start following a balanced diet, your body gets good nourishment, apart from helping you in reducing your weight and also keeping you in good health. It is also important for you to understand what would constitute a healthy diet and how much quantity of food that you can consume every day, which can prevent you from being affected by adverse health conditions such as hypertension, heart diseases, being overweight, etc., since all these are avoidable medical conditions, provided we are able to strictly follow a disciplined lifestyle by incorporating the right diet for our body followed by a few exercises to stay healthy and fit always.
Benefits Derived From Following A Balanced Diet:
There are plenty of benefits that you derive from following a proper and balanced diet. You are able to lose excess weight, in addition to greatly limiting the chances of being affected by chronic as well as non-communicable diseases. We must remember that by following a poor diet, we could also risk ourselves into being affected by certain types of cancer. All these diseases have caused millions of people from across the globe to be affected severely, apart from a rise in the number of deaths that has been observed all over the world in the past few decades, which is a direct consequence of an unhealthy lifestyle followed by individuals.
As we have seen earlier above, it is absolutely important for you to consume the essential nutrients that are mentioned below through the dietary sources which can help you stay healthy.
Consumption of Vitamins and Minerals for your body: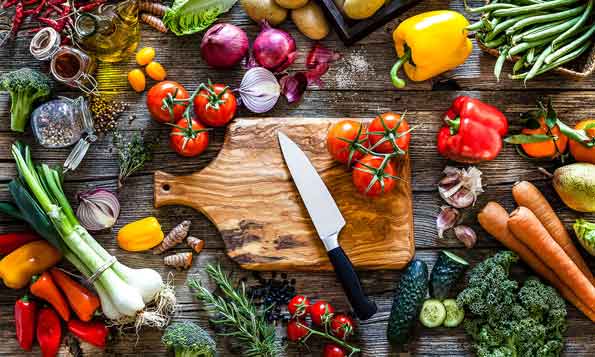 We all require a good amount of vitamins and minerals for our body on a regular basis. If a person is experiencing a deficiency or lack of vitamins and minerals that is required for the person's body, it may lead to the person being affected by any form of ill health.
Many individuals still are not completely aware or suffer from a lack of knowledge on the importance of vitamins and minerals that should be included as part of their diet. A huge number of individuals have a deficiency of vitamins and minerals in their body. Therefore, it is always suggested that individuals include fresh vegetables such as sweet potatoes, carrot, spinach and other dark leafy greens into their diet. Similarly, fresh fruits such as kiwi fruit or citrus fruits such as oranges, grapes etc. can be consumed by individuals to protect themselves from any deficiency in such vitamins and minerals. Further, it is recommended to include certain types of dairy products and other cereals into their diet. Vitamins can do wonders for your body. For instance, by consuming foods rich in Vitamin C and E, you are improving your ability to fight diseases, apart from improving your body immunity.
Similarly, you require foods that are rich in other types of vitamins such as Vitamin A (aids your vision), Vitamin D (keeping your bones strong) and a few others. Similarly, your body also requires minerals for maintaining a good health. For instance, calcium is one of the important minerals that help in formation of your teeth as well as bones. Other minerals such as iron, magnesium are essential for your body and foods containing these components must be included as a part of your diet.
Iron is an important mineral that helps in blood formation, especially red blood cells called hemoglobin that actually moves the oxygen from lungs to all the other parts of the body. Similarly, nutrients such as magnesium are required for your body, as it performs many activities such as regulating the functions of your nerves and muscles. Apart from that, it helps in regulation of blood sugar levels in individuals and also helps in prevention of occurrence of chronic diseases such as type 2 diabetes, including other cardiovascular diseases. Additionally, it may also provide relief to individuals from migraine or even prevent the occurrence of migraine.
Consumption of Carbohydrates and Proteins for your body: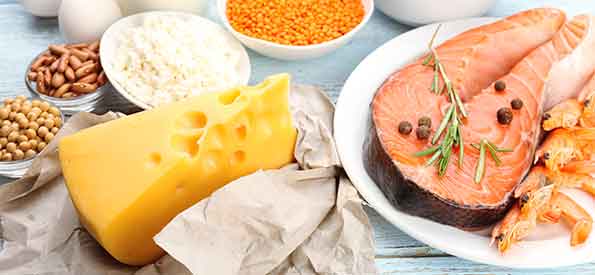 Carbohydrates are needed for the body of every individual in good amounts on a daily basis. Since you derive enough energy that is needed for performing your daily activities, you cannot afford to ignore consuming them. Some sources of carbohydrates such as rice, wheat, potatoes, bread needs to be consumed by you in sufficient quantities so that you would be able to maintain the required energy for your body. Those who are engaged in physical activity would require more of carbohydrates in their diet.
Similarly, proteins act as body builders and are necessary for individuals to achieve a decent growth and development of your body. Moreover, growing kids would definitely need a good percentage of protein to be incorporated into their diet. Proteins play a significant role in keeping your bones and muscles healthy. A protein rich diet is helpful for you to gain high levels of energy, apart from being able to help you lose weight. You can start taking dairy products with low fat content such as milk, yogurt, cheese, apart from taking eggs, lentils, fish, nuts, kidney beans and a few more in order to fill your energy requirements every day. Those who are in the field of sports and other activities that require high energy levels are required to make a diet that is rich in protein compulsory.
Therefore, it is highly essential for you to follow a balanced diet by adding appropriate quantities of all the essential nutrients as a part of your diet every day to lose excess weight and remain healthy.
Image Source: www.fitnessvsweightloss.com
Disclaimer:
The information contained in this article is for educational and informational purposes only and is not intended as a health advice. We would ask you to consult a qualified professional or medical expert to gain additional knowledge before you choose to consume any product or perform any exercise.