The man we are referring to here is none other than Paras Gupta who is a popular name in the fitness industry. Paras had initially completed his Bachelors Degree in Mass Communication from International School Of Media & Entertainment Studies (ISOMES) at Noida, near Delhi. Having passed out of Classic Fitness Academy with a Diploma in Personal Training, the headquarters of which is at Delhi, he is also a Certified Personal Trainer. He has been the runner-up for the Mr. World title in the year 2016 and has further been a 3 time winner of Mr. India (Bodybuilding) and Mr. Delhi (Bodybuilding) from IBBFF (Indian Body Building & Fitness Federation, India). Ever since he had started off to train for bodybuilding when he was pretty lean as a teenager, this bodybuilding athlete had begun to adopt a steadfast approach right from the beginning, when it came to working on his body, followed by a strict diet discipline that had helped him win some accolades in the bodybuilding sport in the years that followed later. After having spent considerable time into fitness and training, he is currently busy with preparing several individuals for the sport to help them achieve their dreams of making it big in the bodybuilding profession. Talking to Claus from Sportz Business Insights, Paras Gupta shared a little about his strenuous journey in bodybuilding that included his diet, his daily routine and a few more experiences that he had undergone as a fitness athlete.
Please tell us something about yourself and also let us know in brief about your background and the various titles won by you in bodybuilding?
As you all know, my name is Paras Gupta and I am known as the Indian Lion in Bodybuilding. I have been able to win many titles thanks to the blessings of God and the support and love shown to me by my fans and friends in India. I had participated and won several titles in bodybuilding. After reaching the position of a runner-up for the Mr. World competition in the year 2016, I had further participated and won in competitions such as the International Kuwait cup, 2017 and Arnold Classic, 2019 that was held in Australia. Moreover, I have been the participant for competitions such as Mr. India, Mr. North India and Mr. Delhi and have managed to win these titles thrice in each of them for the years 2013, 2014 and 2015. Currently, I own a gym chain by the name Universe Health Club which has been run by my family members since 1985 with branches located in Delhi and Vaishali that is located in the neighbouring district of Ghaziabad. So, these are all the titles that have been won by me and this has been my journey so far till date.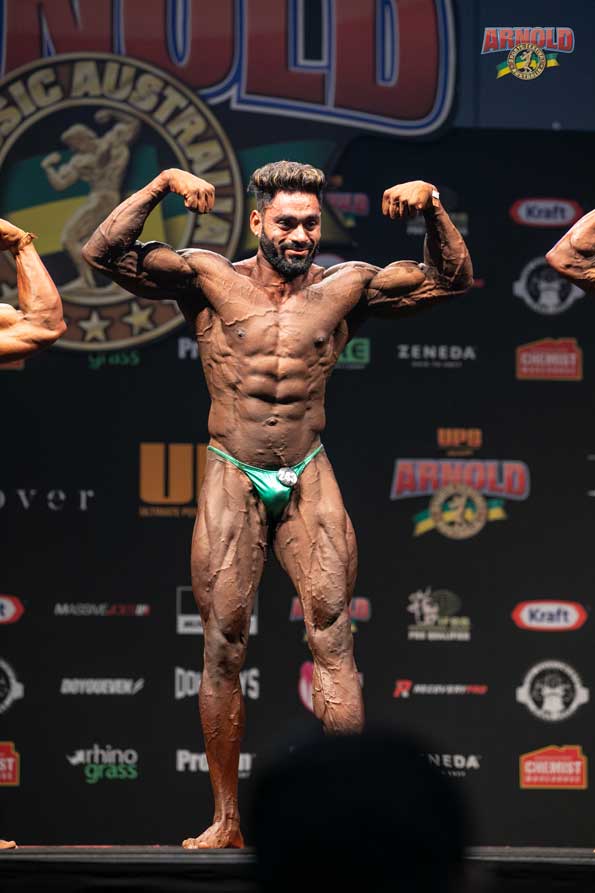 Can you please share with us about what was your diet at the time of participating in various competitions associated with body building?
When it came to the diet that I followed for the last competition, being Arnold Classic, 2019 held in Australia, I used to consume food six times in a day. Out of these, I used to consume snacks three times a day, while I used to consume a little heavier meals thrice a day. The slightly heavier meal included an appropriate mixture of carbohydrates and protein. Just before attending competitions, I used to reduce the intake of carbohydrates and add more protein into my diet. I used to consume chicken, egg white, salad for my protein intake, while my carbohydrate consumption included the intake of some rice once a day. I used to take supplements according to my body weight. My diet contained about 70 percent of protein and the balance 30 percent was filled with carbs.
Would you be interested to let us know what has been your routine as a bodybuilder ever since you wake up in the morning till the time you go to sleep at night?
I would not be trying to restrict myself by talking just about bodybuilding. I will just tell you whether it be sports or any other activity closely related to sports, discipline is very important which has to be maintained by an individual, as it plays an important role in life in order to achieve success. At one point of time, when I had started body building with my group, I used to wake up at 4.30 a.m. in the morning every day. Moreover, even during the winter season when the temperatures used to go below zero degrees which I remember even today, I used to travel from Vaishali to Lajpat Nagar, Delhi to the gym of my guru and mentor for performing my workouts and later used to go to my gym to manage the various activities taking place at my gym and training the people over there. I used to go to sleep at around 10.30 pm at night after closing my own gym. I used to take many meals with proper intervals, apart from ensuring to get a proper rest for my body. At least 7-8 hours of sleep was necessary in order to give my body rest according to my workout. Finally, I would say that I used to do heavy workouts on a daily basis at least 3-4 hours in a day.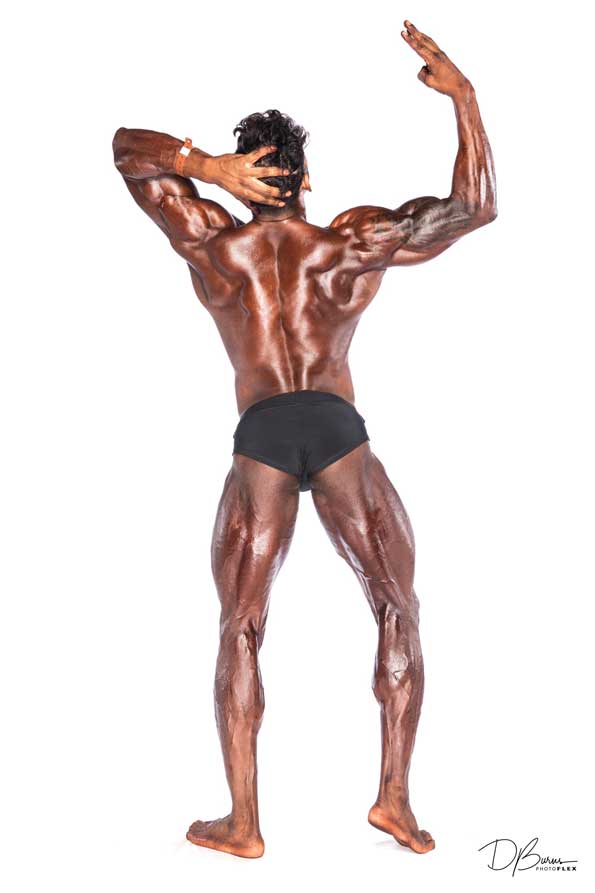 Do you have any special moments in your career which you consider to be memorable and close to your heart even today? If yes, please let us know in brief about it?
The special moments of my life which I can recollect would be the day when I won the 2nd position for the Mr. World title which was conducted in Ireland. This was my first international competition in my life and I had managed to reach the 2nd position in that competition. I was emotionally in tears for some time when I found my name to be in the top two contestants and the time when I wore the Indian Flag on my body. I was deeply excited at that point of time and felt proud to inform my victory to my family members and the ones who were near and dear to me.
Would you be willing to share with us any secrets of yours to achieving success in bodybuilding?
If I have to tell you about the secret of my life, it is just that I have been a self-made man. Till now, I have managed to try and do everything on my own as far as this journey is concerned. I did not have any background in bodybuilding. I used to be only 35 kilos when I started training for bodybuilding. Though , I actually started bodybuilding just to put on some weight to fit myself well on to my clothes, I had slowly made it my passion and later turned it into my profession. Now, I stand before you as a bodybuilder, primarily owing to the passion I had for fitness and training and to become a successful bodybuilder in my lifetime.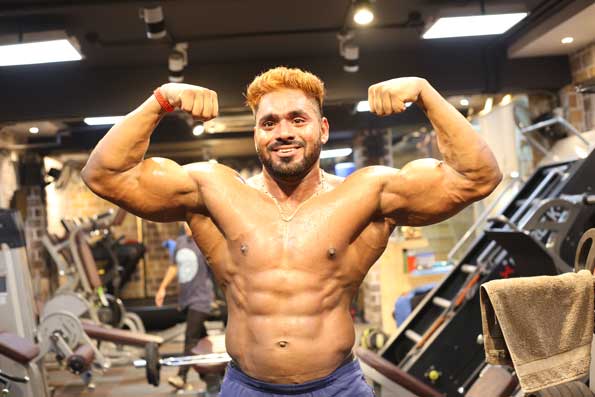 Are you currently training for any competition as of today and when is it expected to be held?
As of today, I am not training for any competition. However, I expect to come back in the near future and would be training once again for the same. I have had some injuries in my legs and shoulders earlier, due to which I had to stop doing workouts for some time. Currently, I have again started with my workouts and am confident of participating in a few competitions in the coming year for my country on the international stage. However, I am not sure about the competition that I would be competing for as of today. I hope to make a good comeback and make India proud again in the coming years.
Do you have any favourite workout of yours at the gym? Can you let us know about it and why you like doing such workouts regularly?
According to me, I used to like doing the leg workout. I had been suffering from some injuries in the past 3 years, due to which I had to stop doing my leg workout. The reason I like doing leg workout is that I consider it to be the god father for every workout. This is because the sweat that is involved or the calories that is being burnt while doing a leg workout are really high. Moreover, every muscle of an individual actually gets worked, when an individual does a leg workout, except for the core and chest muscles of that individual. I would also suggest everyone to do their leg workout at least once in a week.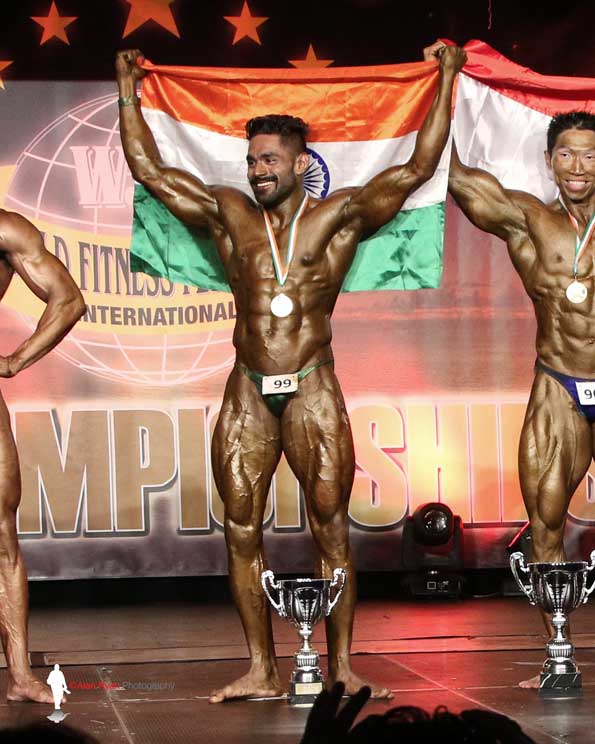 What would be your advice for youngsters who are interested to compete for bodybuilding?
When it comes to youngsters who are interested to participate in bodybuilding competitions, my advice for them would be to follow six things. The first would be determination followed by dedication, discipline, concentration, sacrifice and patience. These six things must be followed by an individual, in case the person wants to take up bodybuilding as a career. If you are really passionate and interested to take up bodybuilding as a career, you must try and make sure that all these six things are followed in order to come out successful. According to me, I will continue to say that bodybuilding is a difficult game in every sense. You would need to have sufficient funds all the time, apart from putting in tremendous hard work for the same and invest a good amount of time for the sport. Hence, I would say that only if you are passionate about getting into bodybuilding, you should give the same an attempt. It is really a good game and you have to keep yourself fit all the time, so that you can achieve success in the future. It is a show business and is primarily about showing yourself to everyone and people would definitely be looking at you before deciding to come to you for training or any other assistance in bodybuilding. Also, if you have the right knowledge about the sport and continue to update yourself with the relevant information, whether it is bodybuilding, workouts or supplements or anything connected to the sport at that particular point of time, you will find that more people would be coming to you seeking for your assistance and also to obtain the right guidance which would be mutually beneficial for both sides.
Can you share any tips on fitness or bodybuilding for the benefit of the readers of the magazine?
For those individuals who are interested to participate in sports, including playing games or who are interested to perform any physical activity, the first thing that they would have to keep at the back of their mind is that they must maintain diet discipline which means that they must follow a healthy diet for the game or sport that they are interested to pursue, in order to be successful in their career or life. It is a must to follow a proper diet plan according to the instructions given by an individual's coach or trainer and according to the sport that one plays regularly. Suppose, individuals are planning to pursue fitness or bodybuilding, then such persons would be required to train according to the diet that is being taken by them. As I said earlier, diet plays a very important role, be it protein, carbs, multi-vitamin. It is necessary for those individuals who are training for bodybuilding or any other sport to stay fit and must also take care to include the right quantity of the necessary supplements in order to avoid any injuries. It is important that sports persons would have to protect themselves from any form of injuries to the maximum extent possible. Finally, all that I would say for individuals who are training for fitness or bodybuilding is that they would have to get themselves to do enough stretching, perform their workouts, take the supplements that are required and maintain a proper and healthy diet which can help them in a big way to grow professionally in fitness or bodybuilding.
Finally, where do you see yourself in the next 5 years and what plans do you have for the future in bodybuilding or fitness?
After taking a break for a year, I have started with my fitness regime in full swing and will be competing for India once again anytime in the near future. I am actually waiting to see myself once again on the international stage and I want to make India proud again by winning a gold medal.
Disclaimer:
The information contained in this article is for educational and informational purposes only and is not intended as a health advice. We would ask you to consult a qualified professional or medical expert to gain additional knowledge before you choose to consume any product or perform any exercise.