The premium men's professional league in India, Indian Super League has declared Indian sports brand Nivia as official soccer ball partner for three years including this 2018-19 season in a multi-crore deal.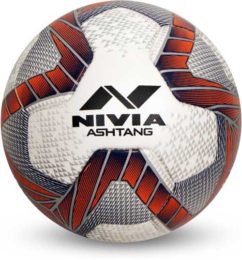 Punjab based company; Nivia has inked a multi-year agreement with the Football Sports Development Ltd, to be the official ball partner of the Hero Indian Super League 2018/19 season.
According to t agreement, Indian Sports Brand, Nivia will supply its 'Ashtag' the official match balls to the league and ten other clubs participating in the season.
Nivia Ashtang is a FIFA pro category approved soccer ball which is designed precisely attaining accurate bounce, water absorption, roundness and swiftness. With the final test occurring at FIFA designated laboratory in Switzerland to get FIFA certification to be used at the international level of matches, the Nivia Ashtang passes through stringent manufacturing standard upheld at Nivia.
Designed to propel with much Power, Speed, Accuracy, Control, Stability, Feel, Cost, and Playability, the soccer ball comes in variegated color schemes. Color blue symbolises the sky and universal appeal, orange represents joy associated with sports, silver and black again represents high-technology and elegance and strength respectively associated with the products. The white base color delivers am message of peace and harmony to the world.
Instead of conventional 32 Panel, the football's unique design uses just 8 Panels thus reducing the seam length by 23% which in turn reduces the friction during the flight and improves aerodynamics to maintain true flight path. The player can shoot more accurately and precisely.
The lesser number of seams offer lesser space for water uptake thus it helps the ball to maintain its weight in the wettest of the conditions. Less number of panels improve the consistency of movement thus gives better control. Eight panels, instead of 32, offer a much larger sweet spot to the players heading the ball.
Rajesh Kharabanda, NIVIA, Managing Director commented, "We are elated to be associated with ISL as the official ball partner. The FIFA Pro categorised Ashtang balls are the newest edition in our professional football product stable and we are confident of upping the game in the highly competitive League environment.
"The association of NIVIA with the ISL is a constructive partnership aimed towards cultivating a strong system of developing football in India and maturing it to International level, a trend that is evident from the performance of U-20 and U-16 Indian teams recently. I would like to thank Inventive Sports for recognising the synergies and facilitating this association."
Indian Super League spokesperson said, "We are delighted to introduce FIFA Pro certified match balls Nivia Ashtang for Hero Indian Super League. Ashtang has been produced by Nivia with the highest standards and newest technology to maximise performance."
Nivia also has individual deals as kit partners with ATK, Jamshedpur FC in ISL and I-League club Shillong Lajong. The company since its early days has been closely associated with the grassroots development of football in India and has become an integral part of the glorious history of Santosh Trophy since the 1970s.
Nivia has been the official ball of major national and international events in India for last five decades.
Disclaimer:
The information contained in this article is for educational and informational purposes only and is not intended as a health advice. We would ask you to consult a qualified professional or medical expert to gain additional knowledge before you choose to consume any product or perform any exercise.