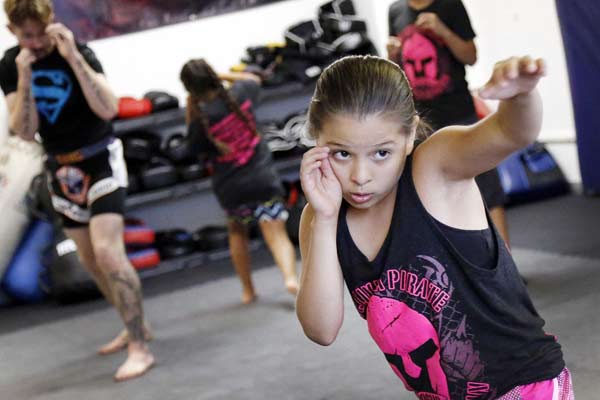 When it comes to self-defense and saving ourselves we always end up doing basic fighting moves.
Those fighting moves are good for nothing because they end with zero results.
So for girls, we have brought a whole new Self defencing technique with a fitness workout plan that can be adopted by every girl to ensure their strength fitness and safety.
Not ideal only for women but this workout plan is ideal for men too.
As men need intense workout then the workout exercise I am going to suggest is suitable.
For bodybuilding body toning and body shaping, all men should adopt this exercise in our daily workout routine.
This extremely in 10 and serious workout is known as Mixed Martial Arts it can be taken for self-defense purpose and is also ideal for fitness and maintaining balance in your life.
Mixed martial arts is ideal for fitness and is beneficial for use in self-defense. I would suggest everyone should know mixed martial arts as it's not really very hard to learn but has great benefits.
Let's Introduce Mixed Martial Arts
Mixed martial arts is a full-contact fighting sport that allows grappling and striking, both standing and on the ground, using techniques from various action sports and martial arts.
Modern mixed martial arts (MMA) is a sport that has relevance with Pankration due to the mixtures of techniques. The core of Mixed Martial Arts includes judo, boxing, as well as kickboxing and Muaythai (Thai boxing), wrestling (freestyle and Greco-roman), and grappling (Brazilian jiu-jitsu).
Muay Thai (Kickboxing) is one of the most famous Mixed Martial Arts techniques.
Now you must be wondering and excited to adopt mixed martial arts take me in your daily workout routine. The moves are quite easy but hard to master. So let's bust this bubble that mixed martial arts is very easy to adopt before practicing it regularly.
If you just want to learn mixed martial arts then you should practice it on a regular basis for more than one hour. And if you want to master mixed martial art techniques and want to become fully trained then you will have to practice mixed martial art continuously for 4 years by doing these techniques regularly for 3 hours a day.
Again filled with dilemmas and confusion? Yes, mixed martial arts is a time-consuming process and should be done on a continuous basis.
If you need to master it you shouldn't leave a single day to practice the techniques and if you just want to engage mixed martial techniques in your fitness regime then you must do it sincerely daily.
Mixed martial arts have great benefits. Let's discuss some of the mixed martial arts benefits.
It improves overall body coordination.
It develops strength and confidence.
It also helps in reducing stress and anxiety.
It helps in improving aerobic and anaerobic conditioning.
It strengthens your core and is also beneficial for respiration.
It will make your blood circulation balanced.
Excited for becoming a master in mixed martial arts? So let's move further on some of the mixed martial arts moves that you can include in your daily routine.
Heavy Bag Thrust. With Boxing. You can do 8 sets for 60 sec. And take rest of 60 seconds between sets.
Freehand Jump Squat. You can do 3 sets of 30 reps. You can take rest of 45 seconds between sets.
Overhead Slam. You can do 3 sets that include 30 reps. You can take rest of 45 seconds between sets.
Weighted Sit-Ups – With Bands. You can do 3 sets of 10 reps. Take rest for 45 seconds between sets.
Russian Twist – With medicine ball. You can do 3 sets that include 15 reps. Ideal rest time is 30 seconds between sets.
Now you must be searching for some mixed martial arts training institutes near you. When I am here to help you out I will help you in every possible way.
Here are the best Mixed Martial Arts Training Institutes in Delhi:-
Mixed Martial Art, Lajpat Nagar (Martial arts school):-
A-Block-8, Lajpat Nagar II, Delhi 110024
B-149 A, Sharma Market Rd, near Pul Pehlad Pur, Pulpharadpur, Block A, Pul Pehlad Pur, New Delhi, Delhi 110044
Here are the best Mixed Martial Arts Training Institutes in Mumbai:-
XFF – Xtreme Fight Federation Mixed Martial Arts Classes in Mumbai
10th floor, Makhija Royale, Next to Rajasthan Hotel, SV Road, Khar West, Mumbai, Maharashtra 400052
Fight Elite Mixed Martial Arts
Shop Number 2, The Business Point, Paliram Rd, Lohana Colony, Andheri West, Mumbai, Maharashtra 400058
Now don't just sleep and relax. Rush and join a Mixed Martial Arts Institute now to change your lifestyle and bring activeness and fitness in your life. Welcome Mixed Martial Arts and change your lifestyle.
Disclaimer:
The information contained in this article is for educational and informational purposes only and is not intended as a health advice. We would ask you to consult a qualified professional or medical expert to gain additional knowledge before you choose to consume any product or perform any exercise.