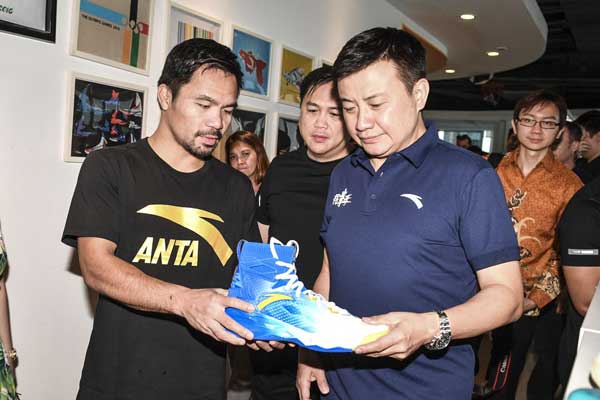 As China's leading brand in the domestic sports product industry, ANTA with the NBA champion Klay Thompson brought the "Shock the Game" China Tour to a successful end last month, right before another ANTA's star endorser – world king of boxing Manny Pacquiao also set in motion his 2017 ANTA China Tour, which was going to be a visual feast to all his fans. It was reported that the theme of the forthcoming tour was "I am a fighter", aiming to demonstrate Manny Pacquiao's aspiration and perseverance for his boxing career.
King of Boxing Manny Pacquiao has arrived, giving his thumps to ANTA tech gear
On August 10, Manny Pacquiao paid a visit to ANTA Xiamen Operations Center and tried out ANTA's latest products featuring a variety of brand-new technologies, while warmly interacting with his fans.
"It is the first time that I have come to Xiamen, and ANTA, too. And I do feel honored to see myself among all the global sports stars and national athletes provided with ANTA professional sports gear, which I am personally confident will help improve my boxing skills but also win in the arena. Besides, ANTA products, which enjoy a high cost performance, are, in my opinion, very suitable for consumers in the Philippines. So, I do hope that ANTA will also, with my active promotions, top over all other sports brands in the Philippines", said Pacquiao during an interview.
That afternoon, with hundreds of his fans in one of ANTA's lecture halls, Manny Pacquiao shared his personal life stories as well as past experiences as a professional boxer. He kept encouraging his fans, especially the young, to stick to dreams, focus, persevere and fight, and many of his fans on site, unable to suppress their excitement and joy, took photos with the king of boxing in their hearts.
Manny Pacquiao entered the boxing world at the age of 16 and now he, as a professional boxer for 21 years, has earned himself the title of world king of boxing in 8 different divisions and created an unprecedented legend for himself in the world of boxing. "ANTA has signed Pacquiao on not only because he is a great and strong-willed fighter who never gives up but also for his self-discipline, thus making Manny Pacquiao a leading example combining sportsmanship with ANTA's brand spirit", said Zhu Minjie.
Strike at full force and seize the market of cross training & boxing
It is understood that ANTA, with the help of such campaign, hopes for more and more people to know about boxing, and for Manny Pacquiao to pass on ANTA's defining spirit – "Keep Moving" and influence and inspire boxing fans and global consumers, and most importantly to highlight ANTA's professionalism in cross-training and boxing products.
As a matter of fact, ever since Manny Pacquiao came on board last November, cooperation has been smooth and successful. With her own influence, ANTA continuously enhances the quality of cross-training & boxing product category. Not only does ANTA set up exclusive areas of cross-training & boxing products in physical stores, aiming to attract target consumers by means of visual merchandizing, but also employ precision marketing, i.e. professional media to sway people in the area of expertise and KOLs in order to improve ANTA's overall brand awareness and reputation. Currently, ANTA is working with multiple well-known professional cross-training media outlets and fitness training centers, by means of fitness training classes, videos and live activities etc., to make more people familiar and fall in love with boxing.
By keeping track of professional games and training of signed boxers, ANTA gets to have her own professionalism in cross-training products elevated, and with the help of their personal charm and sportsmanship demonstrated, define and enrich the meaning of the brand itself. The cross-training & boxing series is expected to become a brand-new growth point following the series of running and basketball.
Disclaimer:
The information contained in this article is for educational and informational purposes only and is not intended as a health advice. We would ask you to consult a qualified professional or medical expert to gain additional knowledge before you choose to consume any product or perform any exercise.