IRONMAN announces expansion into India for the first time with new IRONMAN 70.3 Goa, which will take place October 20, 2019.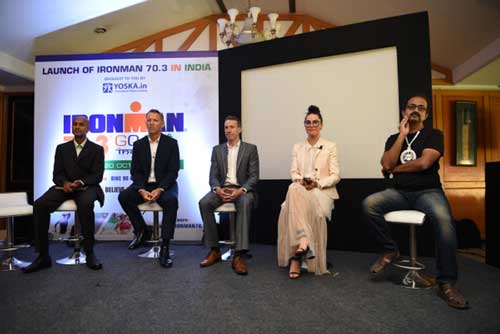 IRONMAN announced the expansion into India for the first time in company history with the inaugural IRONMAN 70.3 Goa, India triathlon which will debut on Sunday, October 20, 2019. Arriving at the shores of India for the first time, the IRONMAN 70.3 triathlon is a great opportunity to reach and further support the triathlon market that has been exponentially growing in India in recent years.
A city steep in history, Goa is one of the most popular tourist destinations in India. It is known for its long strings of beautiful golden-sand beaches that stretch along the Arabian sea, baroque-style buildings and stunning cathedrals.
"This is a huge milestone in the sport and the team and I are thrilled to launch the first ever IRONMAN 70.3 race in India," said Geoff Meyer, Managing Director for IRONMAN Asia. "We've seen a constant upward trend in the participation of Indian athletes in our races all over the world in the past few years. IRONMAN 70.3 Goa, India was designed specially to quench the thirst for endurance sport events among these athletes, bringing their favourite race right to their backyard and an opportunity for athletes around the world to come experience this incredible region. We are thrilled to explore this new opportunity and look forward to supporting triathlon growth in India!"
Tropical Goa is the smallest state in India but also the most laid back and the most popular with tourists, both from India and all over the world. Most tourists travel to Goa in the Winter months to enjoy sunny days, the stunning beaches, fresh seafood, vibrant markets, the nightlife and much more.
The race begins on the serene Miramar beach with a 1.2-mile (1.9 km) two-loop swim in the Arabian sea. Athletes will then hop on their bike for a 56-mile (90km) three-loop ride along the Mandovi river causeway, taking them through the city with a scenic view of the Jetty and the floating casinos. They will then transition in Miramar beach for a 13.1-mile (21 km) three-loop shaded run along popular tourist attraction, the Dona Paula beach. Athletes will cross the finish line back on Miramar beach.
The end of October is the perfect time of the year to host the race with warm tropical weather conditions and temperatures ranging from 29-32°C (close to 84°F).
"This is a historical moment for Indian Endurance Sports and we are very excited to be the reason for IRONMAN to be in India," said Deepak Raj, Co-Founder of Yoska Event Solutions, local operator of the event. "With this we are making an international event accessible to individuals from all corners of India. This event will attract equal international participants, so it is a great opportunity to enhance brand 'Incredible India'. We strongly believe that every participant in this event will be a celebrity and a role model whose story will inspire millions of Indians to prioritize their fitness. This event is our humble contribution to propel the 'Fit India' movement."
"We are delighted to host an IRONMAN 70.3 triathlon in Goa starting 2019," said Menino D'Souza, Director at the Department of Tourism. "This is an international sporting event happening for first time ever in India and we warmly welcome Indian and international athletes and their supporters. This is a great platform for us to showcase culture, heritage and values of India and Goenkarponn (Goanness). We wish everyone a pleasant stay and a safe race."
The 2019 IRONMAN 70.3 Goa, India triathlon is an age group only event and will offer qualifying slots for the 2020 IRONMAN 70.3 World Championship in Taupõ, New Zealand taking place on November 28-29, 2020.
On top of the individual category, 2019 IRONMAN 70.3 Goa, India will offer a relay team option, providing an opportunity for first timers to take part in an IRONMAN 70.3 race.
Disclaimer:
The information contained in this article is for educational and informational purposes only and is not intended as a health advice. We would ask you to consult a qualified professional or medical expert to gain additional knowledge before you choose to consume any product or perform any exercise.