Walking is the most effective and efficient workout which does much good to the body.
Walking workout alleviate the risk of Cardiovascular Diseases, High-Blood pressure, Diabetes, Arthritis and many more lifestyle diseases especially of old-age. Waking not only to enhance the core strength of the body but also it augments the mental stability and mood.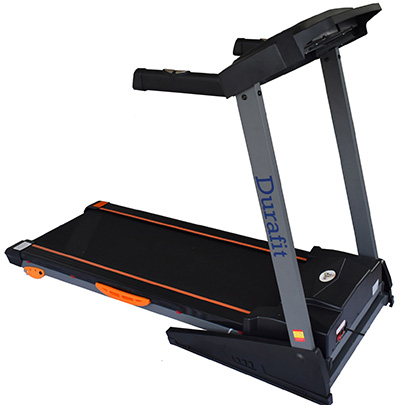 However, seeing the contemporary lifestyle where several blatant environmental reasons like pollution, traffic, unpredictable Indian weather conditions collectively make it not feasible to have a regular walk every other day.
Amid such discrepancies, Treadmill can be a perfect answer for a consistent walking session and that also inside your comfortable vicinity of home.
So when we have uncovered the hidden advantages of walking a natural exercise, now there is a need for incorporating it into our daily life. In order to make it more practical, Durafit brings in a wide range of Treadmills, a perfect pick for household exercises.
The factors which make Durafit, a perfect pick for home based are:
A) The brand is a standalone entity in the Indian fitness market that specializes in Domestic fitness equipment precisely designed to suffice home usage.
b) The brand has a PAN-India service network, so from wherever you are, you can rely on the company's post-sale servicing. Treadmill being an expensive piece of machinery, glitches are inevitable devoid of proper timely services.
c) Durafit comprehends the essence of customer safety which comes first for them. As older users also use the Product, the company assures to deliver safety features in their offered products after investing much time in R&D.
Durafit Strong-Surge
With a continuous output of 2.0 Horse Power and 4.0 at its peak, Durafit Strong-Surge can attain a maximum speed of 14 km/hr. Focusing on the post-sale services, The treadmill carries a yearlong of door-step manufacturing warranty for faulty spare parts as well as 3 years for the motor. The treadmill is equipped with 48 preset pregame and a wide LCD display for keeping a precise over Time, Speed, Distance, Calories, and Pulse Rate.
Having a vertical Hydraulic folding system, the treadmill is quite easy to install besides wheels are attached at the base of the product enabling users to shift it from the living room to hall.
The whole specification can be seen as in below:
2.0 HP Continuous Output & 4.0 HP Peak Output
Speed Range – 0-14 Kmph
Inclination: 16 Level Auto-Inclines
Weight: Max User Weight – 120 Kgs
Product Weight – 68Kgs
Fortified Frame for Heavy Training
1 Year Door-Step Manufacturing Warranty for Parts
3 Years Manufacturing Warranty for Motor
Running Area -1270mm * 470mm (or) 50 * 18 inches
Belt Thickness – 1.8mm
Special Friction Coating for Added Traction
Gel Cushioning for Safe Knees
Music – Loudspeakers with Aux Cable to play your favorite music directly in Treadmill
Hand-Rail Controls for Speed and Incline for added Comfort
Wide LCD Display – Time, Speed, Distance, Calories, Pulse Rate
No. of Preset programs: 48
Target Mode: Set & Chase Targets in Speed, Distance, Calories, Time.
Foldable – Vertical Hydraulic Folding System for easy lifting & storage of the Treadmill
Wheels – Added Portability to move the treadmill as smooth as a shopping cart.
Lubrication – 100% Silicone Oil provided in the package
Safety – Emergency stop key with a smooth stop system