Millions of people across the globe follow strict diets or undergo surgery, hoping to achieve a slimmer physique. While having different goals altogether by many people, it's no surprise that the idea of banishing body fat without restrictive eating or going under the knife draws thousands of people each year under the helm of CoolSculpting. This non-invasive body sculpting treatment is approved by the U.S. Food and Drug Administration (FDA), and hence taking many leads both in India and abroad. While maintaining a healthy lifestyle, there are certain stubborn pockets of fat on the body that are difficult to reduce, to evade such fat from the body CoolSculpting for fat loss as a body contouring treatment comes in.
The process involved in CoolSculpting for fat loss is known as cryolipolysis. The treatment follows the usage of cold temperatures to destroy fat cells just below the surface of the skin. The procedure is usually carried out by a doctor, a nurse, or a physician assistant, though some medical spa professionals who have expertise in the said procedure can also undergo CoolSculpting.
CoolSculpting for fat loss is considered the safest, non-surgical treatment for getting rid of stubborn body fat, and is a very effective body contouring treatment. The result of this procedure appears gradually as the body naturally processes and eliminates the fat. The treatment is considered safe and comfortable with no severe pain. Areas in our body which are stubborn and resistant are some of the ideal spots where CoolSculpting can be done.
How CoolSculpting Works
During the procedure of CoolSculpting for fat loss, a technician applies gel pads to the targeted areas and then passes over them with the help of a device. They may also use an applicator cup with a vacuum to draw the tissue into the cup.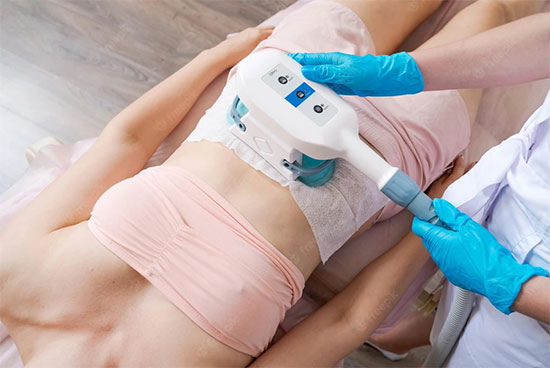 While performing the same the goal is to apply low temperatures to specific areas of the body to kill fat cells, thereby changing the shape of the body. The fat loss procedure comes under the same basic science compared to other fat reduction procedures like liposuction, and various heat and sound-wave treatments. However, you should make a note that CoolSculpting for fat loss is not the sole method for fat reduction or weight loss. It is only a cosmetic procedure to make your skin look thin and firm for beautification purposes.
The dead fat cells targeted in the CoolSculpting for fat loss procedure do not disappear overnight. However, it takes up to six months for the body to fully process and eliminate dead fat cells after the procedure, as confirmed by experts in this field.
Who Should Consider CoolSculpting
It is to be noted that CoolSculpting for fat loss is a cosmetic procedure and has nothing to do with the overall reduction of the human body weight. One needs to follow a strict exercise regime and weight loss diet if an individual wants to have a reduction in their body weight. Experts in skin dermatologists confirm that the procedure involved in CoolSculpting only penetrates the upper layers of fat below the skin, the procedure is best for small areas but not for the overall body composition.
Does CoolSculpting Contains Any Side-Effects
Side effects in CoolSculpting for fat loss are generally low. This procedure is safe and has low risk associated with it. However, there might be common side effects that are usually mild and may include pain or decreased sensation in the targeted area. Some people may develop a rash, swelling, or other discolouration after the procedure, well these common side effects typically resolve on their own in the weeks following the procedure.
Conclusion
CoolSculpting is a fat-reduction procedure and it should not be taken as an alternative to weight loss. For overall body weight loss, one should consider a weight loss exercise regime to shed down extra kilos from the body. Though if you are looking for toned flat skin then a cosmetic procedure like CoolSculpting is certainly the right one for you. Before undergoing CoolSculpting, it is highly recommended to consult with your dermatologist or physician thoroughly regards to your skin's fitness and all the related pros and cons of the CoolSculpting procedure.
Disclaimer:
The information contained in this article is for educational and informational purposes only and is not intended as a health advice. We would ask you to consult a qualified professional or medical expert to gain additional knowledge before you choose to consume any product or perform any exercise.