Colin Kaepernick has been a controversial figure since he began kneeling on the field during the national anthem to showcase his protest against racism and police brutality.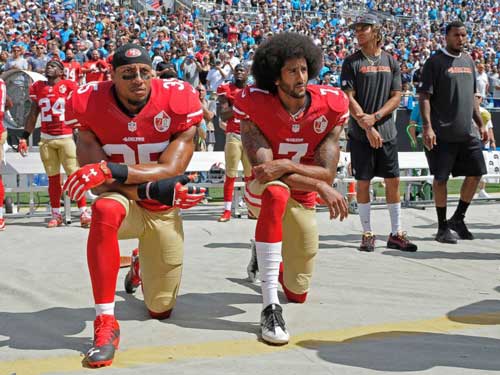 Colin Kaepernick  was ousted off his contracts with the San Francisco 49ers subsequently and has not played any game in the National Football League 2017, as no other team signed him since then.
Now, rekindling the controversy, Nike has decided to use Kaepernick  to front the 'JustDoIt' 30th anniversary campaign and has angered the critics who say kneeling during the national anthem disrespects the American Flag.
The American apparel giant Nike has signed a new multi-year extension with Kaepernick and the put him at the centre of its newest marketing material, with the slogan: 'Believe in something. Even if it means sacrificing everything.'
Being the official clothing sponsor of the NFL league, Nike has raised eye-brows of NFL fans. There might be a case that the clothing and lifestyle brand Nike which has a long relationship with the NFL, is trying some smart business move.
Seeing the last year sale of Kaepernick 's football jersey which was in the top 50 NFL shirts, the clothing company is trying to gamble with their decision of using Kaepernick . According to some experts, Nike brand has been built and maintained by African Americans and benefits from African American sneaker culture.
Nike is not the first American brand to take highly public stances in recent months with research suggesting consumers want companies to stand up for what they believe.
Dick's Sporting Goods banned the sale of assault rifles earlier this year after a school shooting in Florida left 17 teenagers dead. A protest from gun rights activists against the retailer was ultimately unsuccessful.
In the age of the ethical consumer, research analysts say customers are demanding to know where companies stand on issues.
American brands have caught on, with Budweiser airing a video during the 2017 Superbowl which was seen as critical of Donald Trump's immigration policies.
Expedia did something similar after the US president released an executive order which became known as "the Muslim ban".
Several companies – including Intel and Under Armour have left Mr Trump's American Manufacturing Council in protest over his conduct.
In June, some US airlines announced that they did not want to transport children who were separated from their parents – as part of a Trump administration "zero tolerance" immigration policy.
Disclaimer:
The information contained in this article is for educational and informational purposes only and is not intended as a health advice. We would ask you to consult a qualified professional or medical expert to gain additional knowledge before you choose to consume any product or perform any exercise.