Hercules being the chief player of the cycle industry has recently diversified to offer qualitative treadmills under its fitness brand Hercules Fitness.
With a simple and robust message of making fitness your destination, BSA Hercules brings forth their fitness brand named as Hercules Fitness.
The Hercules Fitness offers an array of dynamic fitness equipment. As per the company's website, the brand has Treadmills, Exercise Bikes, Elliptical Cross trainer and Multi-gym as prime offered fitness equipment.
For now, we will focus on the Hercules treadmills:
The treadmills available at the company's end are quite robust and sturdy in design. In order to meet home as well as gyms requisites, these foldable treadmills are the perfect pick.
To start with, we will throw some light over its TM 22:
The treadmill runs on a DC motor with 1.25 Horse Power (HP) on continuity and 2.5 horsepower at the peak. With 3 level manual inclinations, the treadmill can attain a speed of 12 km/hr. The treadmill is equipped with large LCD display which keeps a precise meter of heart rates, calories burnt and other allied bodily data.
Now, the treadmill which is perfect to fit at home comes with a weight limit of 100 kg and a compact dimension of 27" x 61". Besides, there are other features also which makes the product unique is like a handheld heart-rate sensor.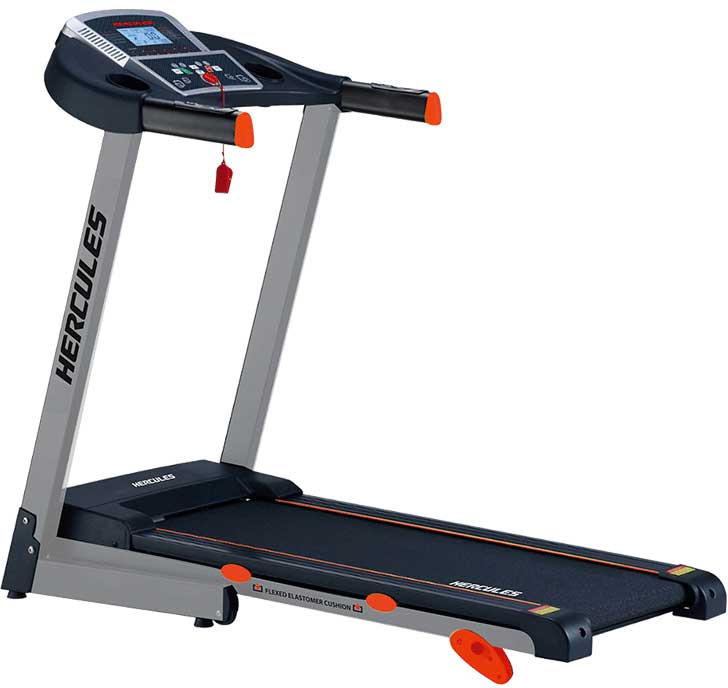 TREADMILL 1.25/2.5 HP DC-MANUAL ELEVATION-FOLDABLE
1.25 HP Cont. Duty/2.5 HP Peak DC Motor
3 Level Manual Incline
12 Km/hr. Max. Speed
12 Pre-set Workout Programs
Hand Held Heart Rate Sensor
Maximum User Weight: 100 Kgs.
Floor Space: 27" x 61"
 Salient Features:
Large LCD Display
Heart Rate Measurement
47" x 16" Extra Wide Running Area
Elastomer Cushion
Operation Keys in Handlebar for convenience
Anti-slip Side Rail
Soft Drop Foldable Structure