Sportswear major German company Adidas has extended its longest sponsorship deal in the history of sports with German Football Association (DFB).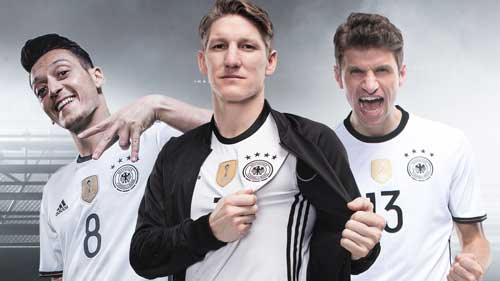 Marking it till 2026, Adidas will continue to be the official supplier of world's largest federation (in numbers).The alliance has so far aged 60 year till the date.
Despite Germany under-performed in the recently concluded World Cup where the team made an early exit, Adidas has instilled confidence into their oldest football partner with the extension of the agreement coming since 60 years.
Among the 32 teams that participated in the Russia World Cup, Germany's $32 million kit sponsorship deal with Adidas was the third highest after France ($54 Million) and  England's ($46 Million) deals with American sportswear major Nike.
At the world cup, Germany bagged $32 million kit sponsorship deal with Adidas, the third highest after France which bagged $54 Million and England's deal of $46 Million with the American sportswear biggie Nike.
Adidas was there always during their 60 years of alliance with the German Football governing body to rejoice their four World cup titles in 1954, 1974, 1990 and 2014 along with European Championship titles in 1972, 1980 and 1996.
DFB President Reinhard Grindel, said, "We are delighted to have Adidas at our side as a long-term, reliable partner. The early extension of our agreement is a display of trust in the strength and attractiveness of the DFB. In addition, it sends an important signal to UEFA that we stand on solid financial foundations in the long term and, also with respect to our bid to host the EURO 2024, that we fulfil the requirements of a tournament organizer."
"The agreement gives us planning security for implementation of our future-oriented construction project and further scope for implementation of our numerous community tasks. At the same time, it enables us to sustainably support our associations on a regional level going forward and thus to drive the development of amateur football in Germany."
Adidas CEO Kasper Rorsted added, "I am delighted to be continuing this collaboration. The DFB and Adidas simply belong together. The timing underlines Adidas' unique sponsorship philosophy: We stand by our long-time partners – particularly when it is important to do so. In the coming years, together with the DFB, we will do our utmost to promote the further development of football in Germany on all levels, from youth football via the regional associations up to the men's and women's national teams."
"In addition, with what will hopefully be a successful bid to host the 2024 European Championships and the DFB Academy, there are two highly interesting and innovative projects in the pipeline where we will be happy to contribute our expertise."