Abhinav Bindra Target Performance Centre(ABTP) is a state-of-the art physiotherapy and Rehabilitation Centre that is devoted to ease people from their different sports injuries.
The ABTP foundation is a brain child of India's standalone Olympic gold medalist Abhinav Bindra, who has founded the Abhinav Bindra Target Performance(ABTP) Centre in India to improve rehabilitation and recovery of athletes after getting severe injury. Taking a cue from the international technology based body assessment and recovery programs, Abhinav Bindra has brought in the same assortment in India by establishing ABTPCentres across India. Basically, designed to increase the performance of an athlete by quickly recovering their injuries, non-athlete can also avail these high-end rehabilitation and physiotherapy services. Having high-end machineries and equipment installed at its five different Centres across the nation, ABTP pledges to provide accurate solution to the athletes and non-athletes patients in their acute muscular pain and chronic medical cases.
Backed by several Italian & German Machines at its Centres, ABTP follows a basic principle of STEAM (Science, Technology, Engineering, Analytics, and Medicine) and renders the best body assessment and treatment to every individual to comprehend their body situation and manage pain and injuries. In a candid chat with Kumar Abhinav of SPORTZ BUSINESS, Abhinav Bindra talks more about ABTP. Edited Nub.
Q. How do you see sports science improvising contemporary sportspersons' performance?
Sports Science allows an Athlete to gain a better Physical Self-Awareness, which allows them to be more receptive to Training, Avoid Injury, and Pursue Excellence! Understanding and Controlling their body allow an athlete to compete better at the highest level, where everyone is looking for that one percent edge!
Q. Being the very first of its Kind, what made you to bring such an elaborative application of Sports Science?
I have had the opportunity to lead a life involved in high performance sport for over 20 years. I was fortunate to get the best support with cutting edge science and technology, which is essential to succeed in the elite world of sport.
The Centres under ABTP and the Foundation are initiatives where I look to bring the same opportunities to India, through which Athletes can receive the best of Science and Technology, to bring the Values of Sport and High-Performance into everything that they do!
Q. How distinct is medical science from sports science?
When focusing on the Human Body, everything about the Science of it remains the same. We all look to be fitter, we all get injured, and we all have the drive to be excellent in all that we do. Sports Science takes the specialization one step further, and allows an Athlete to understand how to push their body to the limit, without risking injury.
Q. Please share a success story of an athlete coming to the centre for rehabilitation and training procedure.
We have had over 2000 Athletes and Patients benefit from our centres. The likes of Virdhawal Khade, training at our Bengaluru Centre, is one prime example of someone that has gone from Strength to Strength, where we believe we have played a big part in Managing Performance Enhancement, and handle Pre-Habilitation and Recovery between big Tournaments. Ranging from Sandeep Sejwal, to Dalima Chibber, to Rahul Bharadwaj and Lakshya Sen, to Saurav Ghosal, to Anjum Moudgil, as well as Ravi Kumar, many Athletes have trained at our centres, and recovered from career threatening injuries to make comebacks that have made our country proud.
Q. Tell us about your recently opened Bhubaneswar based centre, how was the response of the state government which is known for their much attention for organising international sports meet.
The Bhubaneswar Centre has generated a lot of interest from Clubs, Franchises, and Associations from across the country. We have had Almost Every ISL Team at our centre, the U-16 Indian Arrows Team, the Indian Hockey Team, and many more Players and Coaches visit our facility. The Government has been very supportive of our initiative, and I would like to thank them once again for believing in our cause, and seeing the potential of such centres in the country!
Q. From where you have assembled all your centre's equipment and essentials?
The Machines we use have been sourced from great hubs of Sports Science Research like Italy, Hungary, and Germany. Each of the systems are capable of contributing to an athlete's Performance in line with Global Best Practice. We look to expand across the country and allow as many athletes as possible to access these facilities.
Q. Being a standalone Olympic gold medalist, how do you see present state of Indian Sports Infrastructures?
I look at the development of Sport in this country very optimistically. I have seen a renewed commitment to Sport from the Government, which is very heartening. Sports in India needs investment, and CSR Funding from big Corporations is critical to the development of Sport Infrastructure in the Country. My Foundation, which uses Sports Science and Technology to help Grassroots Athletes of various sports gain Physical Self-Awareness, is just one of the many causes that both the Government and Corporations ought to focus on and contribute in whatever way possible.
Q. Can you throw some light over your high-end machineries installed at your centre?
The Machines are State of the Art Systems from all Over the world that allow both Assessment and Training on the Same device. The Machines use Load Sensor and Digital Mirroring Technology that not only can provide accurate Physical Parameters in Minutes, but also allow Visual Feedback Training, where an athlete can make corrections to his/ her posture and enhance Performance. The machines also help Recovery and Rehabilitation, which has never been used before in India!
Q. Tell us how do your segregate those non-athletes patients coming for training and rehabilitation session?
While the Injuries and Conditions may be different, the machines' specialty is identifying the root cause of pain and/or unhealthy body compensation. From the Data received, our Expert Physiotherapists and Doctors can provide Customised Training Programmes, which allows accountable recovery and training.
Q. Out of several sports disciplines that you work on which sport can be considered as the most injury prone one?
Any Sport can cause heavy injury if the body is not primed for certain forms of movement. Contact Sports would definitely have more opportunities for injury. However, it is essential that an athlete has Physical Self-Awareness to ensure they avoid injury as much as possible.
Q. Tell us about your working team, available at the centres?
We have Centres across 5 Cities – New Delhi, Bhubaneswar, Pune, Bangalore, and Mohali. Each of them have expert Sports Physiotherapists, Doctors, Sports Scientists, Nutritionists, and Psychologists, that are geared towards understanding the machine data, and translating it into customised routines for every individual.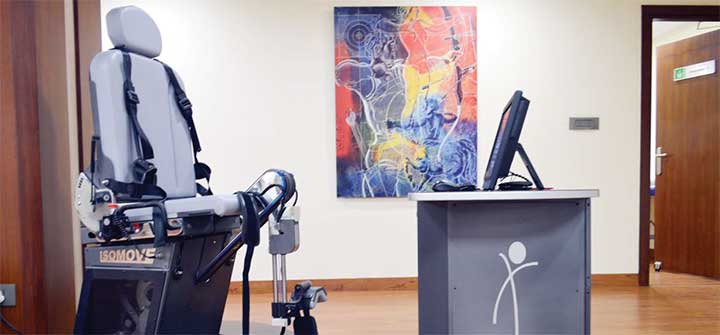 The Iso-Move is an advanced isokinetic machine that tests and trains the quadriceps and hamstrings strength. Especially for footballers and hockey players, knee injuries could prove the end of an athlete's career. The Iso-Move helps an athlete regain mobility and muscle strength around the knee, as well as prevent any knee related deficit.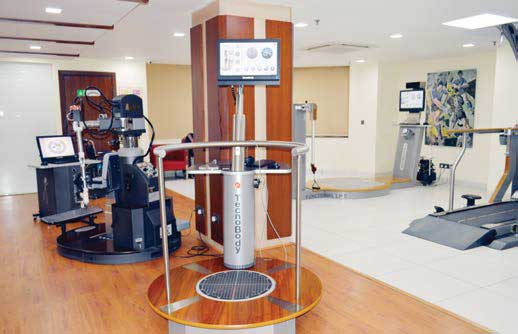 Every sport requires balance and precision, requiring and understanding of body weight side-bias (or proprioception) on the field of play. The Pro-Kin tests and trains the Static stability of an athlete unlike any other machine in India till date.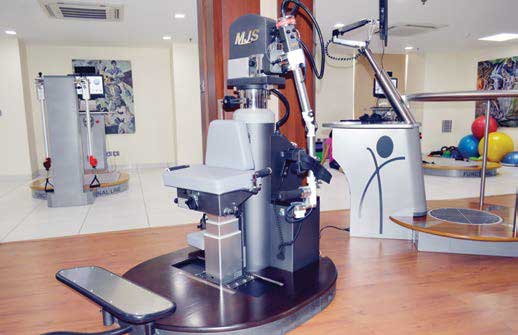 An integral machine for Rehabilitation of the Shoulder, the Multi-Joint System performs similar to a Robotic brace that helps control accurate movement of an Athlete's arm. Athletes with a heavy reliance on their arm to perform (e g. Tennis, Golf, etc.) will benefit greatly from such a device.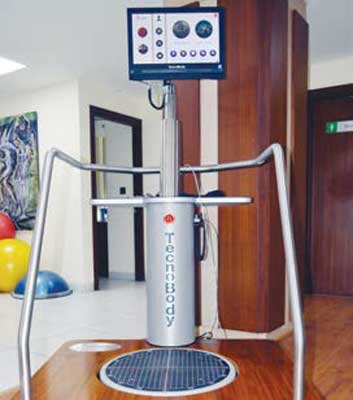 Another Version of the ProKin, this machine will assess both the Static and Dynamic Stability of the Athlete. This machine tests and trains an athlete to correct unhelpful biases and control movement more efficiently. The machine also has 51 different levels of training modules to improve dynamic control specific to the sport.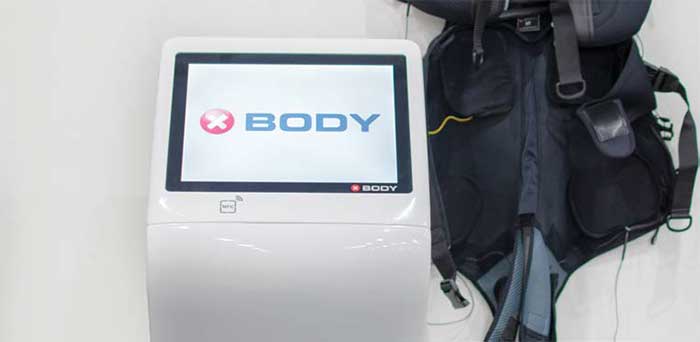 During traditional strength training the brain sends impulses which stimulate certain muscles to contract. However, not all muscles have a well-developed connection to the brain and these muscles are not activated as easily and therefore they will not develop so well. EMS (Electro Muscular Stimulation) Training activates 98% of your muscle fibres as compared to traditional training. Two 20-minute sessions a week is as much as regular training 1.5 hours every day! The X-Body systems are used by the greatest athletes in Sport, including Usain Bolt and footballers like Karim Benzema!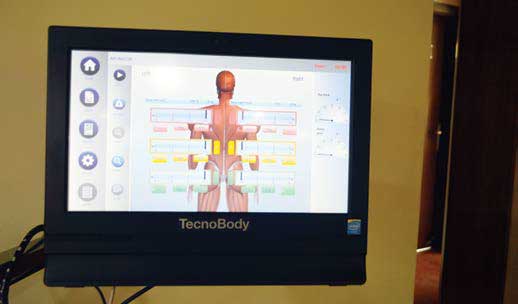 All of the Machines come with a Screen that Allows an Athlete to See their Physical Parameters in Real-Time! This Screen, is from the Postural Bench, Showing the Back Muscle Weight Distribution. For Asymmetrical Sports that use one side of the body more than the other (Badminton, Tennis, etc.) This Test would help identify any muscle strains caused by the imbalance.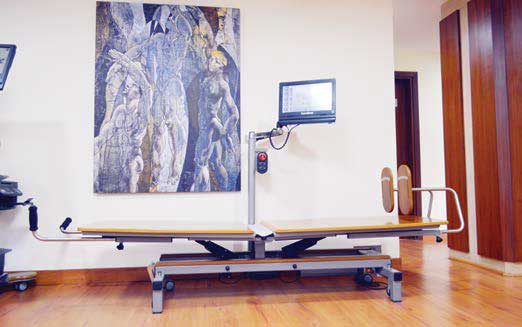 The Postural Bench is essential to the understanding of the use of the muscle chains of the back. With 6 Sensor Load Cells that check weight distribution, it can help correct posture, and prevent many injuries in athletes such as a disc prolapse and lumbar problems.
Disclaimer:
The information contained in this article is for educational and informational purposes only and is not intended as a health advice. We would ask you to consult a qualified professional or medical expert to gain additional knowledge before you choose to consume any product or perform any exercise.