"Would anybody like to say a "NO" to having a Chiselled Body?"
Would it be even more appropriate to say that staying in shape may not be sufficient these days? Maybe, there's something more that you can try and do to improve your looks by getting yourself well-developed muscles. Many of you may even try to undergo a trial of all sorts of strict regimen in order to get some of your muscles pumped-up. In the case of individuals who are looking to increase the size of their chest, including growing those muscles present in their chest, it becomes necessary to actively engage themselves in performing workouts frequently. If individuals continue to train with weights, their various muscles would be put to work that helps them gain adequate muscle strength.
Following are some of the exercises that you can try doing with a set of dumbbells in order to grow your chest stronger:
1. Dumbbell Floor Press: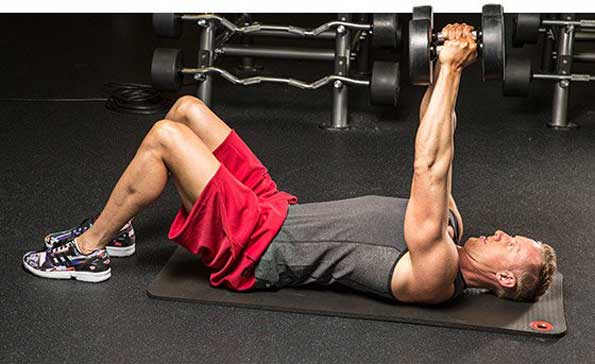 Being a modification of the floor press exercise, the dumbbell floor press is one such fiery exercise, especially for those who are beginners, as it is going to be able to help you develop a good amount of muscle mass and strength on your chest as well as your triceps. As you get to perform this exercise that actually involves only a limited range of motion, you would be able to build a good amount of muscle power in your triceps area. Since the range of motion is restrictive and you are actually going to lie down flat on the floor to perform this exercise, you might even get a feel that the dumbbell floor press doesn't seem quite challenging as you may have imagined it to be earlier. However, this exercise is highly beneficial for individuals, particularly for those individuals who are in the bodybuilding profession and who are actively involved in developing their chest muscles.
Equipment Required:
• A pair of Dumbbells
How to do this exercise?
• You can start doing this exercise by grabbing a pair of dumbbells onto your hands and hold on to them on both sides of your body.
• You can now begin by lying down on the floor with these dumbbells held firmly in both your hands.
• Start raising the dumbbells as your arms are kept extended. The knees must be kept in a bent position.
• Now start lowering the dumbbells, till the upper arms come into contact with the floor.
• With your elbows coming into contact with the floor, you can wait in the same position for about 2-3 seconds and once again start pushing the dumbbells upwards, as your elbows get extended.
• You have completed one rep.
As you lower the dumbbells down, take care to see that the forearms aren't resting on the floor.
You can try and do about 2-3 sets comprising of 8-10 reps each per set.
2. Dumbbell Close-Grip Press: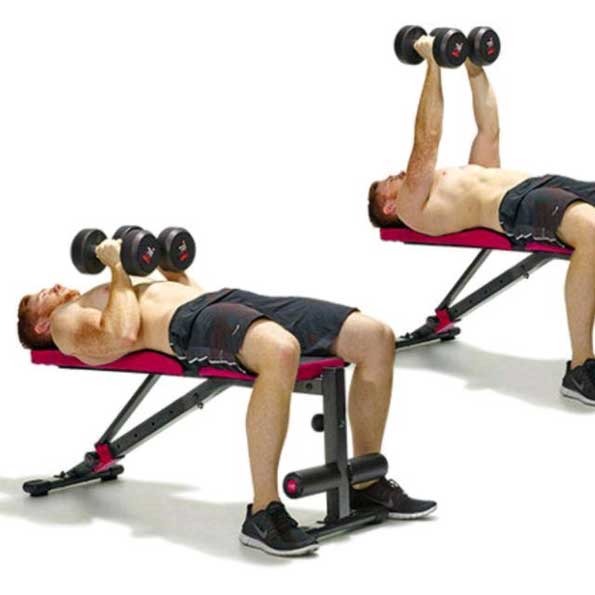 This exercise is one of the modifications of the dumbbell bench press that can be done by you to improve the strength of your chest. It is a highly effective exercise for those individuals who are already into the bodybuilding sport and it actually sets in motion your chest muscles, especially since you would be squeezing those pectoral muscles as you continue to keep both the dumbbells jointly pressed.
Equipment Required:
• A Flat Bench
• A pair of Dumbbells
How to do this exercise?
• First, you can start with this exercise by lying on your back and on a flat bench.
• You can now hold on to a pair of dumbbells in both your hands high-up over your chest.
• Subsequently, you have to start lowering these dumbbells down on to your chest. Keep both the dumbbells in close proximity to each other by not allowing them to touch each other.
• Continue to hold on to the dumbbells in the same position for a defined number of seconds.
• Now, you can get back on to your starting position.
• You have completed one rep.
You must try to do at least 3 sets comprising of 10 reps each per set.
3. Incline Dumbbell Fly: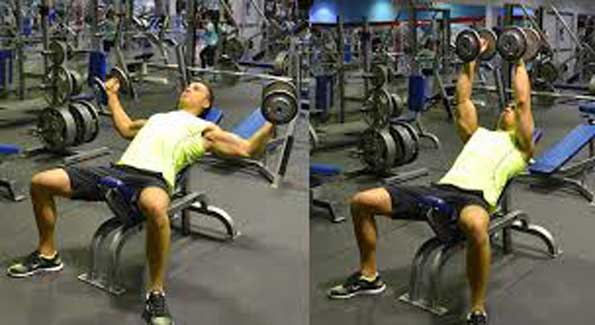 This is one of the strength exercises that are performed in isolation and they specifically target the chest muscles, particularly the top of your pecs. Additionally, it can also be one of your ultimate finishing moves that you can do to keep the focus towards your chest. This exercise also focuses on many other muscles of yours such as your shoulder and arms that help to maintain a proper balance for your body as you perform this exercise regularly. Finally, you would be able to work both your pecs pretty well too with this exercise.
Equipment Required:
• A pair of Dumbbells
• An Incline Bench
How to do this exercise?
• Get started by setting up a bench at an inclined position. Preferably, try and set the bench at an angle of around 45-degrees.
• Get yourself seated on a bench while keeping your feet flat on to the ground.
• As you start pushing a dumbbell to the top of your chest, you must keep your core tight and breathe out, as you lie on your back on the bench. As you keep the dumbbells raised above your chest, try and keep your elbows bent a little, while your palms are kept facing each other.
• You can now begin to breathe in, while you start lowering the weights in such a position that can help you to sense a light stretch that would happen on your chest.
• You can once again start bringing the dumbbells back on to the starting position as you breathe out.
• You have completed one rep.
You can try and do about 2 sets comprising of 10 reps each per set.
Image Source: www.muscleandfitness.com
Disclaimer:
The information contained in this article is for educational and informational purposes only and is not intended as a health advice. We would ask you to consult a qualified professional or medical expert to gain additional knowledge before you choose to consume any product or perform any exercise.