An Engineer and IT Professional From Ranchi Turned Ambassador And Education Specialist For Zumba In India – Sucheta Pal has established herself as a brand ambassador for Zumba by carving a niche for herself in her line of activity. Sucheta Pal has been a recipient of the President's Award – "First Lady" for her work for Women Wellness in India. Ever since 2010, she has been teaching Zumba and has managed to train over 7000+ participants across 17 countries worldwide. She is also a celebrity fitness coach for Gauri Khan, Bipasha Basu, Yami Gautam and a featured fitness expert on TV networks Zoom, NDTV Good Times, Channel V and TLC. In an exclusive interaction with Claus from Sportz Business Insights, Sucheta Pal talks about her fitness journey and how she hopped on from being an engineer and IT professional to make a successful career connected to fitness and mental health and well-being from the stressful corporate world that she was associated with in the early stages of her career and many more. Sucheta Pal had a passion for dance ever since she was young, following which she got an opportunity to have a brief encounter with Zumba and how it worked when she was in the U.S. This was the starting point for her to rekindle her passion that had always been there in her, ever since the beginning. She went on to train for Zumba and began to understand the way it works and the benefits that can be derived from doing such activity every day. After training and acquiring the licence as a Certified Zumba Instructor and Master Trainer, she came to be known as a Certified Zumba Education Specialist. She became the official ambassador for Zumba and is continuing to enrich various people's lives through her journey as a Zumba Education Specialist.
Tell us something about your journey in fitness, particularly your adventure with Zumba and how you got to know about it in the first place?
My journey is not something which I aspired to be. I'm actually an engineer and am from a small town called Ranchi and I had basically done my Bachelor's Degree in Engineering. The mindset of the society here is that you will see most of us in our hometown have been brought up with the thinking that you can become either an engineer or a doctor. If ever by default, the person is good in studies, they will go through that particular phase. However, my parents have encouraged me to do every kind of co-curricular activity, but I was very academically inclined. So I wanted to myself have this high flying career as an engineer. So I went completely into it. But what I actually meant to say was there had been very little opportunities to explore media in a small town like Ranchi. I got placed in TCS, following which I had shifted to Mumbai. I worked in the corporate for quite a few years, which was for at least four and a half years and then I realized that it really wasn't for me and I wasn't truly following my passion. I was super stressed in my corporate life, because frankly you would know how it would be, which starts from 9 a.m. and goes on up to 9 p.m. Moreover, I was not really following my happy goal or passion and my true passion was to dance. I wanted to learn more of that, but never got an opportunity to pursue it professionally. So what I did was to simultaneously start pursuing my passion for dance and enroll into professional dance streaming in Mumbai. Subsequently, it was like I had to manage both which made me feel very very sick, as I had been trying to manage everything, but then I truly realized that this is what I loved more. My interest was just to learn as well as teach dance. Subsequently, I got married and then moved to the U.S. with my family in 2009. It was at this time when I was trying to discover new dance classes on the internet, I had come across a studio that was offering Zumba. To be frank, just like many people I had also thought that Zumba is a dance form which isn't by the way. I went and enrolled myself. As soon as I entered the class, I had realized that it is one of the most fun fitness formats ever, because it is inspired by dance and music. But, it's actually a workout. I am sure you also know that Zumba is a brand. The brand headquarters is based at Miami, U.S. The licensed Zumba instructors would take the official training and teach the same to others. I had been discovering all of this during that period. I also have to tell you that you can even make a professional career out of this. I love dancing but I was not really well. I needed to feel happy while I am attending a session which is so amazing such as Zumba, because I can actually change people's lives by becoming a Zumba Licensed Instructor myself. So, I began to search the process of how to become a licensed instructor. It was at that point that I realized that Zumba, the brand had master trainers all over the world. Zumba is currently being taught in 195 countries. There is this whole set of master trainers who are called Zumba Education Specialists. One can visit them and get their training there. So, when I was in the U.S. in the year 2010, I went on my own for attending Zumba classes and got myself trained over there. Subsequently, I got my licence as a Zumba Instructor and had started teaching classes in the U.S. itself. That had actually been my first journey into the fitness industry. I had taught Zumba for 2 years and then the CEO of Zumba wanted to really push the whole concept of Zumba in various countries and one of them was India. That's when I got auditioned in Miami in their headquarters to become a Zumba Education Specialist, which is to be a Master Trainer in Zumba for India. After that, I had come back to India in the year 2012. Before me, In India, there was no Indian who was a Zumba education specialist. So, Zumba Headquarters used to send international trainers to come to India and do one or two trainings to train any person who wanted to get the licence to get Zumba instructorship. When I came back to India, there were hardly 50-60 instructors at that time. So, my role as the first Zumba education specialist for India in 2012 was to really start taking the initiative to re-launch the programme in the biggest way possible and take it to every nook and corner of India. I had a very very tough job at hand at that time, but I really have to thank a lot of people, especially those who had been running gyms, studios and they had really supported us. We had been literally to every gym and studio and literally people used to think like how most people would and even used to call it dance and some would even say jhumba funnily and what not. There is still this whole concept of people who would copy from YouTube and teach some Bollywood Zumba bullshit. At that time, we also had to make people realize that this was a cultural brand. Beto Perez was the person who actually was the creator of the fitness program Zumba and he was a dancer and choreographer from Columbia. The website www.zumba.com can be visited by you, which would be able to provide you with the details that you may be looking for. There used to be a lot of latin dance influence for us, mainly the music influence. Since Zumba has been able to reach many countries, we have become a global cultural brand. In a Zumba class, you can see music from Spain, Belgium, Brazil and also from India, China, Asia and literally everywhere. It is in fact beautiful, with especially the way they have brought in folk dances from so many places covering nearly every region in the world. That's how my journey had started in Zumba and of course over the years, I am also an ambassador for the brand. My main role in the fitness industry is with the brand Zumba and I am officially the person who can license it. For instance, today if you want to take up Zumba as a profession, you would have to come to me to take the official training and I will offer the licence for the same to you. I am the trainer and the licence giver. I currently have a team of 16 master trainers as of today. We have expanded the team and I have also had the opportunity to lead that team for 3 years now. Some of them are also in other parts of India, for instance some being in Orissa and some in Delhi and so on. The most beautiful part of this is that a lot of people, starting right from corporate goers to home makers, to college students can now pursue their passion for dance through a proper professional career of Zumba. That's where my role comes into play, where I am able to contribute in a small way by training and guiding them into their profession.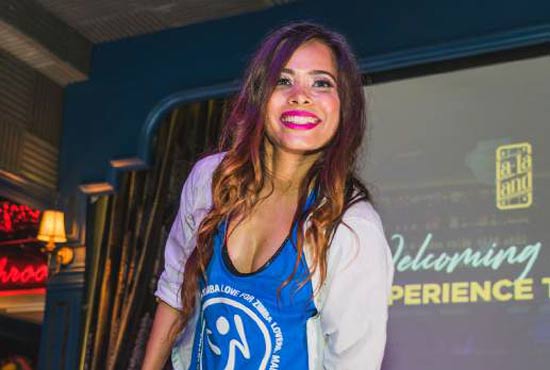 Can you tell us any real health benefits that a person can get from doing a Zumba workout?
The first and the most important thing is that this workout is not for people to get intimidated in any way. For instance, my brother or sister or mother for the first time may want to start working out and we throw them into the gym, they would feel very intimidated. We actually call it the happiest workout of the world. It is a happy movement class. We want to encourage people to first start moving. It could be a walk, or a jog, cycling or Zumba. The best part is that sitting is the number one killer. For instance, if we tell someone to go for partying, they will go. This is where we build in Zumba. We call Zumba the hidden workout. It may feel like partying, but the workout is actually hidden. There are hardcore squats, lunges, etc. and all of that. Actually, the way they would call it, it is definitely a total body workout that has the benefits of cardio strength, which means there is bodyweight training and of course your mobility. The best part is that this workout is amazing for a person's mental health, because there is music and dance involved. So, this is how I would like to put it when it comes to the health benefits that Zumba has to offer for individuals.
Are there any specific dos and don'ts that you ask your clients to follow which could be either before or after or during the Zumba workout sessions?
If someone wants to attend a Zumba fitness class, they need to always first go to a licensed Zumba Instructor. The way to find out is to go to www.zumba.com and you can click on final instructor and that's where you can find the licensed instructor. Today, we are not having any live classes as such. But you can go to Zumba.dance and Zumba has its own online portal where instructors teach classes and they can go and enroll for a virtual class. First of all, remember to always go only to a licensed Zumba Instructor. Secondly, when any individual is entering a class, whether it may be live or virtual session, the person must always be dressed in comfortable breathable clothes along with good workout shoes. For cross trainers, no running shoes should be used. Zumba also has its own line of clothing and shoes. So you can always purchase it on Zumba shop. It is an accepted website. These shoes are of the same standard of a Nike or an Adidas. Hence, these are awesome products. They are also very affordable. Thirdly, you wouldn't need anything other than a smile and of course a bottle of water for this workout. If anyone has a special condition such as a spondylitis or a slipped disc, they would have to definitely take permission from the doctors and the trainer will help them modify the steps accordingly.
Give us a little brief on the facilities that you currently offer to the members of your studio, especially after the outbreak of COVID-19 that has led to several restrictions being imposed on individuals? What steps are you currently taking for your studio for the safety of your clients?
I don't own a studio at all. I have always only been renting out studios. I think in the COVID time, for safety purposes, we guide our studio owners to compulsorily disinfect the entire area and also get it done every half an hour after every class. We try to keep the class shorter which is for a maximum of half an hour. We don't allow any participants to come over without a mask. There is a temperature check of course and we are just making sure in cases where the capacity of the room is say for a maximum of 20 people, we do not allow more than 7 or 8 persons in the room today. But, in most of the places, especially in Mumbai, the group fitness classes have not started yet. These classes are happening more in the 2-tier and 3-tier cities, which have now re-opened. These are actually the safety concerns that most people have and we have been trying to take care of them. Of course, I will also add that the rooms have been kept well-ventilated and wherever possible we have tried to do the workout outdoors. I am also sure that some of the Zumba instructors have been doing that too.
According to you, individuals belonging to which age category are finding Zumba to be interesting and are taking it up seriously for staying fit? Can Zumba be taken up by individuals belonging to all ages or are there any age restrictions to do these workouts?
This is a very good question and I would like to tell you first of all that if you go to Zumba.com, it is a huge brand. Hence, there are different specialities of Zumba. Today, if you take up the Zumba Basic 1 licence, which is the first licence and you can start teaching the age group starting from 12 years and above. But, suppose you have a huge clientele which involves kids, especially if you are a school teacher teaching in a school and now you want to teach them Zumba Kids, you would be taking a Zumba Kids licence which is applicable for the age group starting from 4 years to 11 years. Now, there are both summer and winter seasons for the same too. Considering that the COVID situation is good, just like in summer, you can also take Zumba classes during the winter season which is called as the Aqua Zumba format and you can obtain a licence for the same. This is an amazing format which uses the whole buoyancy of water which is resistance in itself. There is a whole science of water resistance and water fitness. There is also something called the Zumba Gold which is for active older adults who are above 60 years old. It is modified into a simpler version. If anyone wants to do Zumba designed for 12 years and above, they can do the same. Additionally, if someone wants to do Zumba separately, for instance in case they are interested to do with the magic of water and resistance training, they can do the Aqua Zumba. There is also something for corporates which I am actually going to teach. Please feel free to join for those classes. It is going to be held on the 19th of December, which is Zumba Sentao. Sentao in latin means to sit. So, it is going to be with a chair and it would be a hardcore workout using the chair. You would be using the chair as the gym equipment. This is something that will come very handy. We are also keeping a virtual event, wherein, over 100 people would be attending the event and we expect it is going to be super awesome.
Currently, at how many places have you been offering Zumba classes for individuals? Can you tell us about your plans for Zumba in the near future, maybe 5 years from today?
Today, there are thousands of licensed Zumba instructors in India who have taken up Zumba professionally. I personally conduct only exclusive events. My main role is that of a Zumba Education Specialist, which is as I mentioned before to train the trainers. Once I impart training to trainers, they go on to become licenced Zumba Instructors. Subsequently, they would go on to teach individuals in every part of the country starting from Himachal Pradesh to Trichy. They may hire a studio or it could be that gyms may hire them to teach Zumba to their members. All of them ultimately go on to become freelancers. I am the ambassador for Zumba and hence my job is primarily involved with conducting exclusive events. For example, in case the Phoenix Mall wanted to do a huge Zumba open master class event, I would come and teach a 90 minute class over there. Similarly, if there is a fitness test that is happening, I would be invited to do four demos for the fitness tests. That would be my job as an ambassador. For example, even yesterday we had an association with Gold's Gym India and a fitness test from Indonesia. So we conducted a master class. A Zumba fitness class was called for and the same was conducted by a Master Trainer like me as a Master Class. It was a virtual class and we had conducted the session by using Zoom Video Conferencing. We had hundreds of people attending the event. This is how I have been conducting my classes.
What according to you would be the best time to practice Zumba workouts during the day?
You can do it at any time in the day. There is no specific time for doing the workouts. However, generally what research has shown is that where your body is not stressed, it could be either early in the morning or late evening. That's when we are generally seeing the maximum number of individuals joining Zumba classes. It is generally 7.30 in the morning or 7.30 in the evening after they have come back from work. Most individuals find the timings of classes held at 7.30 in the evening to be comfortable, when they are ready to de-stress after a day's work. We are also seeing the maximum number of individuals comfortable in joining Zumba classes at this time during the day.
Can you name any favourite Zumba workout of yours and why you like doing it?
There are many such as Zumba Kids, Aqua Zumba, Zumba Sentao. My favourite one in Zumba would be definitely the one that involves teaching the kids. I think the need of the hour is that our kids today in India are super stressed because of COVID. It is important for them because sitting at home, they get some kind of happy movement. So I am very passionate about the Zumba Kids program. I am also the master trainer for the same. So, I love training trainers in that format and I love teaching kids too. So, that would definitely be my favourite workout.
Apart from offering classes, do you also suggest any food to be consumed or diet to be followed for your clients to help them stay fit and healthy? If yes, would you be interested to share any with us for the benefit of our readers?
I am not a nutritionist and it would be unfair of me to give anyone a diet plan. If someone is giving, then that person is really not a trainer. It's like anyone saying I will teach Zumba without taking the licence. I have done a lot of nutrition courses and I constantly study. Hence, I give a lot of generic suggestions. From my experience and from what I have seen, I would say that protein is super important. Basically, I would say that in India, many individuals are undernourished. They don't get enough protein. So I think that if we Indians are taking care of our protein intake, we would see a lot of health benefits. We have this taboo against fat which is actually not correct. Nuts, ghee is all a great source of fat. All these are amazing for the brain. The brain cannot function without good fat. Cod liver oil capsules are a must that individuals can take. As far as women are concerned, it is important that we have the right amount of fat and a good amount of healthy carbs of sweet potato. However, I would ask them to avoid bread or pizza. Roti is great and I have heard some people saying about gluten free and all of that. But, in case you have heard of that chakki atta which is the organic stuff, it is pretty awesome. There is no problem in having wheat. It is also more important to consume the locally produced stuff.
Can you give any suggestions on fitness or Zumba for the readers of our magazine?
On fitness, I would share on what I have learnt earlier. Basically, I did not find motivation to work out. Even today, I may be in the fitness industry, but I am also human. Waking up every day and finding motivation to workout is tough. It is really difficult. I think one thing that a person could do to start work out is to do the one that gives you a lot of fun or that which you would enjoy doing the most. It can be walking, running, yoga or it could be Zumba. You have to find the one that you would be able to stick to because you like doing such workout. You don't have to do a workout just because it is trending. I would also say that motivation is over rated. It is difficult to find motivation and you have to find the discipline to just go and work out, even if you don't feel like doing it. So just start finding a way to do work out every day. Keep doing the workout like a machine and don't think about the motivation in the beginning. Once you begin to feel changes in your body, then you will automatically feel motivated to work out. Moreover, you will have to find a good trainer to help you with your workout. Many of us try to invest so much in food. Some of us also buy the costliest food and dresses to look good. But, we end up spending more in illness than we spend on fitness. We spend more money in buying junk food and oily stuff. When you come to a trainer, many people try and start negotiating. I would say please don't do such things. You have come to take care of yourself. You have to invest in yourself. Lastly, I would end by telling people that they should try and hire a good trainer and also make sure to pay them for their services.
Disclaimer:
The information contained in this article is for educational and informational purposes only and is not intended as a health advice. We would ask you to consult a qualified professional or medical expert to gain additional knowledge before you choose to consume any product or perform any exercise.