How does a local sprinting girl develop her discrete taste for American Brand running shoes?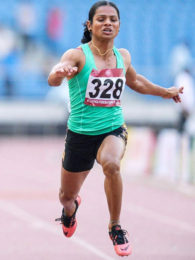 Dutee Chand, one of the country's brightest medal hopes in the Asiad and the national record-holder in 100 meters has shown how did she become so selective over the running shoe brands and what does a pair of running shoes matter to her.
I started my running bar footed as at that time in my village it was only rich people who could afford a pair of shoes. It was only my elder sister who gifted me a pair of shoes when I was seven.
I have tried a lot many local branded shoes, however, it doesn't last long. Henceforth, relying on the American brand shoes, I ship them to India with the help of a friend.
American shoes are way far better than these local ones, costing around anywhere in between 10000 to 15000, Americans shoes span up to two to three months in the wake of our rigorous training hours.
It was 2006 when I got my first spike after joining sports hostel in Bhubaneswar. It was weird and awkward for me to wear the same and run and it took me a period of a year to get myself accustomed to those spikes shoes. However, now I can't think of running without putting on a proper running pair of shoes. I have become quite choosy in terms of selecting spikes for running. And now in order to keep myself updated with the new products launches and allied information, I keep reading a lot may stuff online. My specification includes only pink and blue shoes which are light and have to weigh less than 200g for me. So, far I have started relying on a certain brand whose fitting suits me.
Hardly, I give away my shoes to anyone, as these pairs are close to my hearts. Once they get worn out, I keep them safely at my home in Odisha.
I still kept the pair safe with which I broke the national record as these pairs are quite emotional to me.
As I come from a poor village where only rich people could afford a pair of shoes. So, retaining shoes was a big thing back then, when I started running, I did it barefoot. It was only my elder sister who gifted me a pair of shoes when I was seven, a pair of white canvas.
Presently, I have more than a dozen pairs of high-end spikes but those white canvas shoes which my sister gave me is more valuable.
Disclaimer:
The information contained in this article is for educational and informational purposes only and is not intended as a health advice. We would ask you to consult a qualified professional or medical expert to gain additional knowledge before you choose to consume any product or perform any exercise.