"What may you really know about Yatinder Singh?
Maybe, there's something more that we could tell…"
Yatinder Singh, the man whom we can simply define purely based on his achievements was born to an upper middle class family in the city of Saharanpur in the Indian State of Uttar Pradesh. Yatinder's success journey started with the registering of his first ever victory at the Western Uttar Pradesh Championship in the year 2002, which was followed by the winning of titles such as Mr. Saharanpur (2002), Mr. North India (2004), Mr. World (2015) Silver Medalist and Mr. India (2016). Apart from being a professional bodybuilder and a fitness icon, he is also the owner of one of the finest and luxurious Gyms called "AimFit Gym" that is located at Gurgaon. In a freewheeling chat with Claus from Sportz Business Insights, Yatinder, who had taken to fitness and bodybuilding just as a hobby, before deciding to convert it into a professional career, opened up on his experiences with fitness and bodybuilding, right from how bodybuilding happened to him, his participation in various competitions connected to fitness and bodybuilding, his role as a fitness trainer, gym owner and entrepreneur, the various plans that he has for his gym in the near future and a lot more.
Can you tell us something about yourself and your journey in bodybuilding?
My name is Yatinder Singh. I am a professional sportsman and a bodybuilder. I started this journey in the year 2000 when I first started going to the gym. Initially, when I started I did not have an idea that I should compete or become a professional bodybuilder. During my school days, I was very thin and one of my friends suggested that I join a gym and do some exercises. Initially when I started going to the gym, it was more of a hobby to keep myself fit. This was also because I would feel more confident in class at school. Even though I started this as a hobby, my trainer who is also my guru suggested to me that my physique was better as compared to a normal person. He also said that the results were showing faster and therefore I could start competing for bodybuilding. As per his advice, I participated in my first competition and also won which was in the year 2001. After the win and finding that both my family and people had appreciated me for my victory, I participated and won and became the district champion and the U.P. State champion in 2003, followed by my participation and winning of Junior Mr. India (2004) and Mr. India (2007). I was born on 25th December, 1982 in Saharanpur in Uttar Pradesh. Over the years, I have competed and won many titles, with the most recent one being the Asian Championship that I won in 2018 winning a gold medal. There have been some prestigious competitions such as Talwalkar Classics and Mr. Satish Sugars Classic Body Building Championships, wherein, I had participated and also become a champion in those competitions. Apart from being a sportsman, I am also an entrepreneur who owns a gym by the name "AimFit Gym" at Gurgaon. I am involved in a lot of work in the fitness industry. I do have both a Youtube Channel running in my name, including a female fitness channel. I also own a company which is known as "Yagam Fitness Private Limited." I endorse some brands apart from conducting many events through my company. I am also a brand ambassador for other brands such as "Being Strong", apart from being a brand ambassador for a supplement brand by the name "BigMuscles Nutrition." I professionally do not compete anymore.
What was the reason behind choosing bodybuilding as a career? Have any of your family members earlier been into bodybuilding? Whom do you consider as your role model in bodybuilding?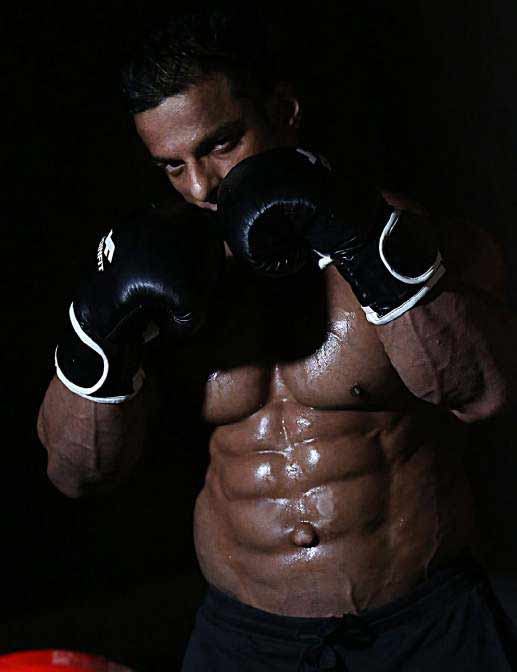 First of all, I would say that nobody in my family has a background in bodybuilding. My grandfather was a farmer and my father has been a businessman all his life running his own transportation business at Saharanpur, Uttar Pradesh. So, there has never been any connection whatsoever by anyone from my family with this sport. It would be wrong to say that I chose bodybuilding. Rather, I would say that bodybuilding chose me. Maybe, this has been my destiny. Apart from getting the right opportunity at the right time and continuing to work hard, we also need blessings of God. I think I am blessed. There have been many people who have been a source of inspiration, but I don't think there is only one person who I look up to as a role model. I had been attached to my grandfather, Mr. Chaudhary Hukum Singhji a lot who supported my aspirations initially during the times of my struggle in this field and made life look easier during my period. He was the one who I could probably name as a role model. Other people who inspire me are Sachin Tendulkar and Arnold Schwarzenegger.
Tell us what was the time that you felt convinced on your decision to participate in the first ever competition of yours and how had it really gone for you at that time?
As I mentioned to you earlier in the first question itself, when I had managed to win my first competition in 2001, which was actually because of the suggestion given by my guru to myself at that point of time to participate in and after bringing the shield home, I was pretty much convinced that I had to achieve something in this field. But I did not know the way forward to progress, like how to qualify for nationals or world championships and whether government and other support were available. But I was clear that I had to achieve something in the fitness world at that moment in 2001 and my guru had been the main reason behind the decision that I had taken earlier.
You have participated and won several national and international titles till date. Can you tell us any title or titles which you have won that you still consider to be special or close to your heart till date?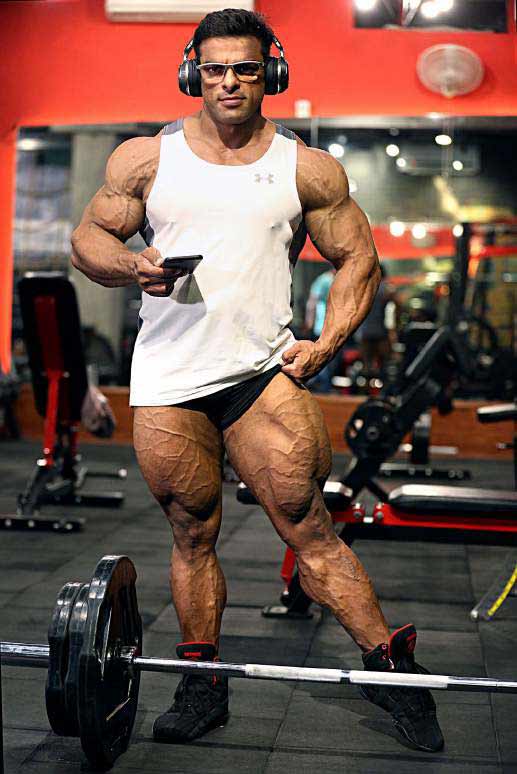 For a sportsperson, just participating and representing your country is a proud moment, but when you win and bring home medals by winning national championships, such wins are always special to me. Every time I won something, I moved forward in my career, starting from zonal level to state, North India and subsequently India, Junior Nationals, Federation Cup, Senior Nationals, Talwalkars, Mr. Satish Sugars Classic Bodybuilding Championships, Asia or World. Every journey made me learn something or the other in the process. There is one competition in particular, by the name of Talwalkar Classic, in which a person cannot participate directly. There must be an invite that must be sent to you for participating in the same. Before 2015, my main goal was to get an invite from Talwalkar Classic, so that I would be able to participate in the sport. This is because the invitation is sent only to the top 20 players by them and from among them, only the top 10 players are selected and placed. There is also this championship which happens, in which the biggest cash prize is offered. In the year 2015, I received the invite from them and I felt really happy that I was considered among the top 20 players and was able to get selected. When I used to start out from my home, I used to discuss with my family members that I had kept a target and wanted to reach the position which is to be among the top 10 players at any cost. After participating and being able to retain a position to be among the top 10 players, I was subsequently able to secure the position of being among the top 5 players and later among the top 3 and finally winning the competition. I was also able to become a champion. This championship is close to my heart always, because after winning this championship, many people had started to get familiar with my name. After coming back home from winning the Talwalkar Classic championships and upon waking up the next day, my name was all over in the media, especially after winning the Talwalkar Classic Championships. People had also started recognizing me only after I had won this championship. So this is one of such title that I consider to be close to my heart.
What would you consider as the most cherished moment in bodybuilding?
Only bodybuilders will appreciate the fact that this sport can be practiced only by people who are highly disciplined. So this sport has taught me the same. For the past 20 years, I had been working out daily without fail – be it gym workouts, cardio, weight training. This was the time that I used to cherish every single day. This time that I had invested along with the efforts that I had put in, had actually given me the chance to participate and compete for my country and bring laurels for India and the tricolor. It was in the year 2015 that I was awarded with a Silver Medal in the World Championships. The National Anthem that was being played along with the hoisting of the National Flag was truly the moments that I would continue to cherish in my lifetime.
Can you let us know about your training routine in general?
As a routine, whether I compete or not, I start my day with a 45-min brisk walk, cycling or cross-trainer type of cardio activity. I do 70-90 minutes of strength training 6 days a week, unless there is an exigency. Even when traveling, I make sure to use the facilities at the hotels where I stay, but do not miss my routine.
Tell us about some of your favourite workouts at the gym and why you enjoy doing such workouts?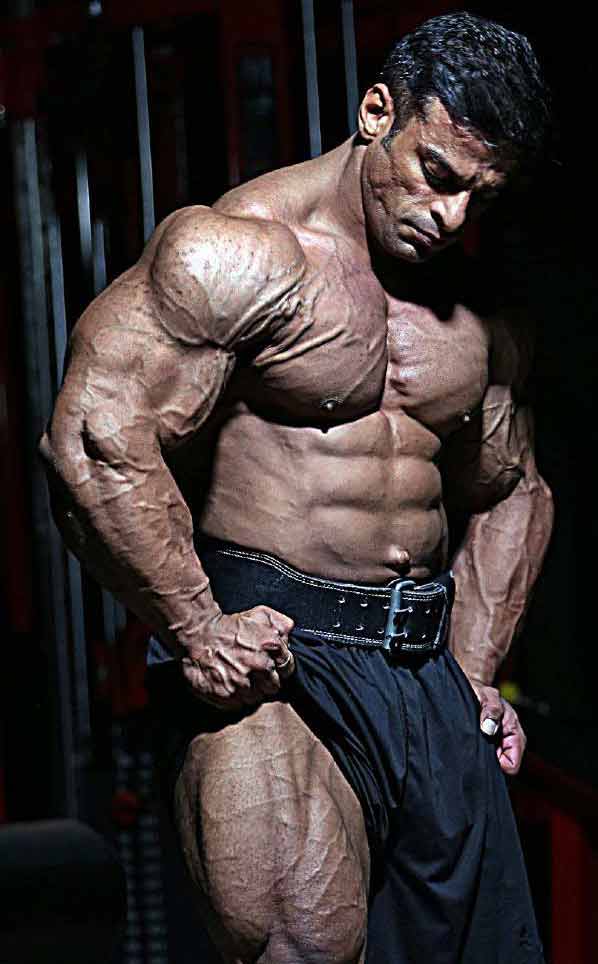 There isn't one workout that I can point out as a favorite. I enjoy any workout that trains any body part and muscle group. If you do not enjoy the workout, you would not be able to obtain the results that you expect. I would say this specifically for individuals belonging to the younger generation who have been visiting the gyms. For instance, in the case of individuals doing upper body training or training with their legs, I would tell them to enjoy every training session that they are involved with every day. The more a person enjoys each and every training session, such person is in a better position to witness better results from such sessions.
You must have trained several individuals for bodybuilding over the years and would be continuing to do so even today. How many individuals are you currently training today? What is the next competition for which they are currently being trained for and when is it expected to be held?
Before I answer the question, I would like to say that for youngsters that have a taste for fitness and who want to see themselves stay healthy and fit, our duty to train and guide them becomes more important, since they are more in number. These athletes are seen more in the Tier-2 cities, towns and villages and the ability for them to reach me or my level is difficult, due to various reasons. For such youngsters, I am trying to reach out and train using my YouTube channel YatinderSingh, since everyone uses a mobile phone, apart from internet being cheap for everyone. I try and educate them right from how they should start their training, how to build their muscle and moreover, when it comes to vegetarians, the type of diet to be followed by them, etc. I am able to do all of this free of cost using the Youtube channel.
If you wanted to give advice for anyone who is planning to participate in bodybuilding competition for the first time, what would it be?
When it comes to people who are interested to build physique or who want to choose bodybuilding as their profession, my first advice would be that bodybuilding requires a lot of patience as well as courage. You cannot try and be hasty while training for this sport. Building your body strong does not happen overnight or say about three months or six months. This is such a sport where there would be improvement for you to see even on every single day. But, in case you are not having the required patience, you would fail to notice the same, due to which several youngsters have been trying to take a shortcut route, such as using illegal steroids, inducing artificial hormone only to become a bodybuilder quickly. Moreover, individuals would require a good trainer or guru or a teacher compulsorily when they compete for the first time. For those individuals who are thinking about trying to become an athlete and also desiring to be self-made or wanting to become a fitness athlete by using the help of local trainers from the nearby gyms located in their area, I would say that such effort would only prove to be futile. It is necessary to have a guru or a mentor to train individuals well and there are plenty of them in India. If you want to build a good physique, you have to spend a minimum of 2-3 years for this sport. Additionally, when you start participating for your first competition, it is important for you to not participate just to win. Till such time that you participate in a couple of competitions and lose, you will not be able to understand what is to be done in order to win any competition.
You have been a gym owner and have been training many individuals as of today? If you could tell us something about your gym and your role as an entrepreneur. Also, do you have any plans to expand your gym business in the near future?
The name of my gym is "AimFit Gym" and it is located in Gurgaon. The purpose of starting this gym was not for the purpose of making money and I consider it only to be secondary. First, I would say that especially in good cities, there are several gyms, although such gyms are not considered to be of good quality. According to me, I define a good gym as one that is having the presence of a qualified trainer, apart from the gym being well-equipped with the necessary infrastructure and the atmosphere prevailing in the gym that would matter a lot to me. Moreover, the handling of a gym should be in such a way that it should create an atmosphere that should make us feel like we are a family, which was one of the reasons for starting a gym of my own. I am planning for an expansion of my gym by handing it over on a franchise model to any potential person interested to run the gym and who is not showing first priority for making profits and who have a lot of passion towards the profession. We have appointed a few trainers at our gym who are qualified enough for doing their job as trainers. Very soon, I am also looking at various opportunities available for undertaking expansion of my gym.
Would you be willing to give any tips or suggestions on fitness and bodybuilding for the readers of our magazine?
For the readers of Sportz Business Magazine and especially to the ones who are interested I fitness, I would say that fitness is not an overnight game. It could be that you may be interested in achieving a weight loss or a weight gain or it may be that you are desirous of participating in a competition and you are busy preparing for the same. In all these cases, you would have to put in a lot of effort for the same consistently by doing a lot of hard work. By doing the same, you would also feel that you are becoming both physically as well as mentally fit by performing the various activities at the gym. Just like how we pay a lot of attention on physical fitness, since every individual likes to look beautiful or smart, especially waiting to hear some words of appreciation from others about such person's body figure or physique, the time has come for devoting equal attention towards mental fitness too. Along with some physical activity, you must set aside at least 10- 20 minutes for performing meditation, breathing exercises compulsorily so that you are both physically and mentally fit.
Disclaimer:
The information contained in this article is for educational and informational purposes only and is not intended as a health advice. We would ask you to consult a qualified professional or medical expert to gain additional knowledge before you choose to consume any product or perform any exercise.