Entering the 25th year of its partnership with the United States Tennis Association (USTA), American Express announced today a range of onsite benefits and experiences for Card Members and fans attending the 2018 US Open Tennis Championships at the USTA Billie Jean King National Tennis Center in Queens, NY.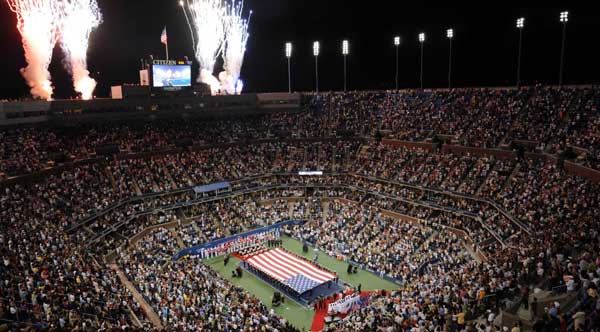 To enhance the overall end-to-end fan experience, American Express will launch new services such as the Amex Band, a contactless payment wristband that allows eligible Card Members to pay for purchases and unlock unique benefits with a tap of the band. In addition, American Express is creating an interactive tennis experience called Super Rally and will also open a Centurion Suite at the new Louis Armstrong Stadium. Finally, American Express is continuing its long-standing relationship with four-time US Open champion Venus Williams as part of the brand's 2018 US Open advertising campaign.
"Whether you're a casual fan or have been attending the US Open for a decade, our goal is to deliver essential benefits and innovative experiences that enhance the overall Championship experience and reflect our brand's best-in-class service platform," said Deborah Curtis, Vice President, Global Experiences and Partnerships, American Express. "Our partnership with the USTA is a prime example of how we're backing our Card Members and fans alike across their biggest passion points and favorite cultural events."
Highlights of American Express' plans at the 2018 US Open include:
AMEX BAND – UNLOCKING EXCLUSIVE US OPEN BENEFITS WITH A TAP
This year, the USTA has introduced more contactless payment options throughout the US Open experience. As the Official Payments Partner, American Express is launching the Amex Band, a contactless payment option for eligible Card Members, which lets Card Members pay for purchases and unlock experiences with the tap of their wrist.
Card Members can pick up and activate their Amex Band (one eligible American Express Card per band) at a number of locations at the US Open including the US Open American Express Fan Experience, South Plaza and American Express Radio Satellite Booths. Once activated, with a simple tap, Card Members can use the Amex Band to:
Bullets:
Seamlessly purchase concessions (restaurants, suites and mobile carts excluded) and merchandise from accepting merchants
Access the American Express Card Member Club and exclusive merchandise for purchase in the US Open American Express Fan Experience
Access the Centurion Suite in Louis Armstrong Stadium (exclusively for Platinum and Centurion Card Members)
Pick up complimentary American Express Radios and mobile phone chargers
Purchase a customized Polo, water bottle and tote bag with four Amex-exclusive Polo Ralph Lauren designs at the American Express Exhibit in South Plaza
Get $20 back after spending $100+ in one or more transactions on-site at participating merchants at the US Open, if eligible for the $20 offer. Eligibility differs for the Amex Band and the $20 back offer. Visit usopen.org/americanexpressbenefits for Amex Band, offer, and benefit terms and exclusions, including eligibility.
To showcase the Amex Band and its other experiences and benefits, American Express partnered with tennis legend Venus Williams for a social and digital content series that highlights everything Amex has to offer at the championships. The series builds excitement for the tournament experience and reminds fans that no matter how you play the US Open, American Express has your back. Fans can view this content on American Express-owned social channels, with support from the United States Tennis Association and Williams as well.
US OPEN AMERICAN EXPRESS FAN EXPERIENCE RETURNS WITH SUPER RALLY
Each year, the US Open American Express Fan Experience provides interactive experiences and unique services for Card Members and all tennis fans. This year's highlights within the US Open American Express Fan Experience, located nearby the USTA Billie Jean King National Tennis Center's East Gate, include:
American Express Super Rally: American Express is delivering Super Rally, an interactive gaming experience that allows players to go beyond augmented reality and simultaneously play tennis in both the digital and physical worlds. Players will enter one of eight bays featuring a life-sized transparent monitor. After getting a video tutorial on how to play by Venus Williams, fans will use a custom-designed 3D printed racket to return virtual tennis balls in augmented reality against physical targets. Available to all US Open attendees, the experience will challenge players to score as many points as possible.
American Expres Card Member Club: Located on the second floor of the US Open American Express Fan Experience and open to all American Express Card Members, the American Express Card Member Club is a place where Card Members can relax and enjoy several complimentary services including mobile phone chargers for use onsite and a refresh bar. There will be also be a pop-up US Open Collection store with exclusive merchandise for purchase exclusively for Amex Band users, and food and beverages available for purchase.
EXCLUSIVE BENEFITS AND PERKS FOR CARD MEMBERS
American Express  Centurion Suite: Inspired by American Express' signature Centurion Lounges and broader Global Lounge Collection, American Express is opening a Centurion Suite located within the new Louis Armstrong Stadium, exclusively for Platinum Card and Centurion Members.
The Centurion Suite is the ultimate place to relax and recharge while enjoying a day at the US Open. Guests will be able to get a taste of some of the signature Centurion Lounge amenities and offerings, as well as special experiences designed to further enhance Card Members' US Open experience, such as:
Complimentary premium snacks, small bites and water, in addition to one complimentary drink (beer, wine or cocktail)*. Additional selection of finely crafted cocktails, beer and wine will be available for purchase.
A special dish created by Cédric Vongerichten, Executive Chef of The Centurion Lounge at LaGuardia Airport, as well as wine pairings curated by The Centurion Lounge Wine Director, Anthony Giglio
A unique photo moment to share their US Open experience at the Centurion Suite
Flat-screen TVs
Phone charging stations
Dedicated WiFi network and restrooms
The Centurion Suite will be open from 12:00-8:00 pm from August 27-September 5 and 12:00-5:00 pm from September 6-9. American Express Platinum Card Members are able to bring up to two guests while Centurion Members can bring two guests or their immediate family.**
American Express Radio Live at the Open: The American Express Radios, exclusively for Card Members, continue to bring fans closer to the tournament, providing live commentary and updates from ESPN. American Express will distribute radios from four satellite booth locations across the grounds at the USTA Billie Jean King National Tennis Center, while supplies last.
OTHER ACTIVITIES OPEN TO ALL US OPEN ATTENDEES
South Plaza: American Express will provide a unique photo opportunity for all fans to share their US Open experience in the South Plaza. In addition, American Express Card Members with an Amex Band will also have access to four Amex-exclusive Polo Ralph Lauren screen-printed designs. Card Members can choose their design to be screen printed on a variety of items for purchase, such as polo shirts, tote bags and more.
Guest Info Hosted by American Express: American Express will host Guest Information booths throughout the grounds, as well as a dedicated Guest Information section within the US Open mobile app, to help fans easily navigate their way around and find answers to frequently asked questions. American Express has incorporated large touchscreen ground maps into each of the booths to make getting information even easier. Fans will be able to zoom in and out on the maps to help them navigate the Open.
Check the original story: Click here
Disclaimer:
The information contained in this article is for educational and informational purposes only and is not intended as a health advice. We would ask you to consult a qualified professional or medical expert to gain additional knowledge before you choose to consume any product or perform any exercise.