Canada's biggest domestic and international airline, Air Canada is bringing its global 'Fly the Flag' initiative to Mumbai.
In this latest iteration, 'Fly the Flag' highlights how people from across the world are making an impact on local communities, while exhibiting the values of diversity, equality and inclusivity.
In a bid to solidify the relationship between India and Canada, Air Canada has introduced three new direct routes in less than a couple of years since 2015.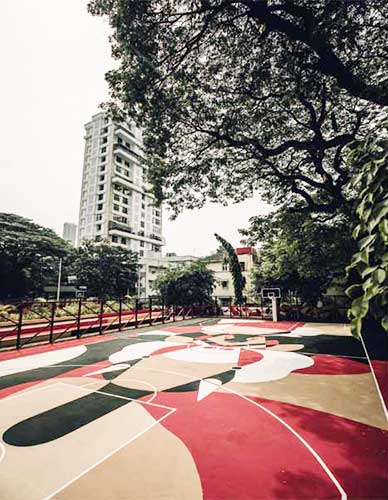 Showcasing Mumbai's beauty, Diversity and Vibrant culture, Air Canada has partnered with award-winning content creators Beautiful Destinations to revive the Hooper's Ground Basketball court. The initiative was to framed to create to an enduring positive space in the community for people to come together that would leave an artistic legacy that is visible from the sky. Renowned Indian artist Sajid Wahid—through ST+ART India Foundation—used colour and design inspirations from Canada and India, including moose and elephant motifs reminiscent of the two nations, to create the unique colourful court.
Speaking at the event, Arun Pandeya, General Manager, Air Canada – India & South Asia said, "At Air Canada, we believe that by doing good and by participating fully in the communities we serve, our airline truly thrives. We're committed to giving back through a range of initiatives each year that help advance diversity, equality and inclusivity around the world. Air Canada is grateful for the opportunity to add value in meaningful ways to the neighbourhoods and communities in this wonderful nation. We thank our partners for making today's event such a success, and the youth for taking part in the inaugural game on the new court."
"We are optimistic that not only local youth and basketball enthusiasts but those from across Mumbai will visit here and benefit from the revitalization of the Hooper's Ground. Today's event is a reflection of our commitment to the Indian market and we hope to further strengthen connections between India and Canada."