The international major sportswear manufacturer adidas has announced 'She Breaks Barriers' initiative to break the barriers associated with women in sport. Expanding on the #creatorsunite conversation launched in August 2018, this multi-faceted initiative is designed to inspire, enable and support the next generation of female athletes, creators and leaders.
To highlight the barriers faced by women in sport and to invite the world to join the movement, adidas premiered the She Breaks Barriers film, featuring some of adidas' most influential female and male athletes* and narrated with musician Pharrell Williams , during NBC's Sunday Night Football. To further support, adidas released an open letter to its employees and to communities around the country. The letter called on everyone to join the effort and together, level the playing field and co-create the future of women's sport.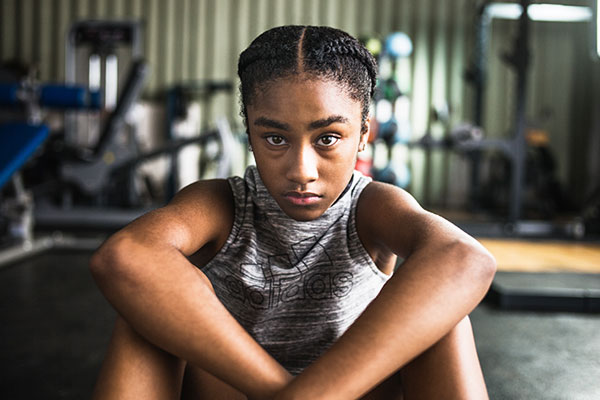 Candace Parker , WNBA champion, two-time WNBA MVP and two-time Olympic gold medallist said: "My goal in everything I do is to provide better opportunities for my daughter and girls her age both in sports and in life. Being a role model for young athletes motivates me each time I step onto the court. Having a partner like adidas, who is so committed to creating new opportunities for the next wave of young female athletes, is so powerful and I'm thrilled to be involved in this new initiative."
By age 14, girls are dropping out of sport 1.5x faster than boys[1] and by age 17, 51% of girls who participated in sport have quit[2] because they do not have a sense that they belong, and they don't see a future in sport. 73% of U.S. adults believe that high schools and colleges provide better support for boys' sports programs than girls sports programs[3]. This data proves just how important it is to remove barriers in sport and adidas is committed to providing the same opportunities for girls that are offered to boys. Participating in sport has many benefits, including teaching girls to be more confident and learn valuable leadership skills that help them later on in their lives. A recent study conducted by the EY Women Athletes Business Network and ESPNW showed that 94% of women executives in the C-suite played sport and 52% played at the university level or higher.
A series of new partnerships with three areas of focus – to provide access, to remove stereotypes, and to address the inequality for female athletes at all levels and ages – will be introduced including:
Partner with the Global Sport Institute (GSI) at Arizona State University to identify existing barriers to sport for women, examine how to overcome the barriers and explore what equality means for women in  sport across opportunity and pay. As an independent research institute, GSI will help adidas tap into existing and new original research and subject matter experts.
A series of 6 projects in New York  and Los Angeles – two of the brand's global key cities – to co-create solutions to remove barriers for women and girls in sport at the community level. The communities will be called upon for their feedback on what programs are needed most in their community through the #creatorsunite platform.
In 2019, adidas and Pharrell  have committed to a joint initiative dedicated to removing barriers to sport for young women. The program will be designed with insights and feedback from the Global Sport Institute and the engagement from the public following the campaign to ensure maximum impact .
Sponsorship of the Women's National Football Conference (WNFC) supporting women playing, coaching and the development of professional women's football.
Partnership with Jen Welter, the first female NFL coach, to co-host girls' flag football camps across the US in 2019 and explore ways to increase access to the sport for young girls.
Engage in a three-part dialogue with students at Texas A&M to uncover the barriers to sport that exist for women on campus , discuss potential solutions for how adidas can help to remove these barriers and create change by funding initiatives on campus  that continue to evolve the future of sport for women in College Station.
adidas will be a national partner of Girls on the Run through 2021, elevating the brand's commitment to break barriers to sport for women and girls by inspiring them to boldly pursue their dreams through the power of sport. adidas and Girls on the Run together will increase the opportunities girls have to reach their fullest potential through various touchpoints including by providing apparel and footwear, co-hosting 5K events across the US and more.
Eric Liedtke, adidas Group Executive Board Member and Head of Global Brands, said: "We believe that through sport, we have the power to change lives. As a brand we want everyone to have equal access to sport. Unfortunately, research tell us girls today are 1.5x more likely than boys to drop out of sport. This is unacceptable as we know that sport builds confidence, ensuring that female athletes win on and off the field.
We're starting a new program that will inspire and enable girls to join and stay in sport. By removing barriers to sports we aim to help shape the next generation of female athletes and leaders. We'll leverage our partners to find locally relevant solutions in our communities around the world. This is an exciting day  for us as a brand."
Recognizing that this isn't an issue the brand can fix alone, adidas is inviting fans, organizations and athletes to join the movement and co-create solutions together. For more details visit www.adidas.com/us/shebreaksbarriers. To share your story, ideas and solutions to co-create the future for women's sport with adidas use #creatorsunite on social media.
Disclaimer:
The information contained in this article is for educational and informational purposes only and is not intended as a health advice. We would ask you to consult a qualified professional or medical expert to gain additional knowledge before you choose to consume any product or perform any exercise.